5 Ways High School Juniors Can Make the Most of College Visits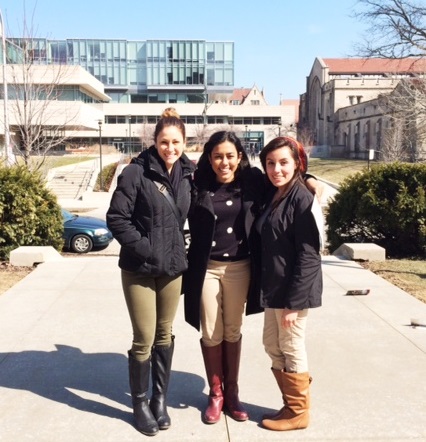 As the spring sun rises higher in the sky, so too should the college-seeking ambitions of high school juniors. College campuses all over the country are welcoming flocks of prospective students to usher in the warmer weather, and junior year is the perfect time to see what all the buzz is about. Even if you haven't narrowed down your perfect fit, campus visits may shed light on characteristics that are important to you.
Many of our Young Scholars who are current high school juniors are encouraged to make such sojourns to campuses across the country. In March, Educational Adviser Anya Good accompanied two of her Scholars, Tashrima Hossain and Nayely Gutierrez (both juniors from Houston, Texas) to Chicago where they toured the University of Chicago and Northwestern University.
"As we boarded our flight to Chicago, I felt the need to internally prepare myself for my first ever college tours," admits Tashrima. "Would the college students be overly intellectual and intimidating? Would I feel inferior to the other obviously-not-novice college visitors? Would the universities suit me, and would I suit them?"
Tashrima and Nayely quickly discovered the answers to these questions, as apprehension faded into exploration. Collectively, they pulled together a list of considerations they believe all high school juniors should consider as they visit campuses this spring and summer.
Explore the school's academic offerings: "After our visit, I am now more certain on what I want to major in," says Nayely, who's leaning toward civil engineering.
Interact with the admissions committee: "The admissions committees at these schools were approachable and hospitable," says Tashrima. "I now have a better idea on how to approach the admissions process."
Connect with a current student to hear a unique perspective: "I enjoyed talking with Jacobi (a JKCF College Scholar at Northwestern) and hearing her advice on how to deal with deadlines and stress and her insight on how to deal with balancing social life with school work," says Nayely.
Investigate extracurricular offerings: "There were specific things I never thought about before, like abundance versus scarcity of extracurricular activities," says Tashrima. "I think these definitely relate to the overall student satisfaction of the school."
Take note of the school's culture and atmosphere: "Each school had a vibrant student culture and a specific vibe that distinguishes it from the other," says Tashrima, while Nayely admits that, "I realized that the atmosphere of the school is going to be crucial in making my decision."
Anya was happy to see her Scholars reflect in such a positive way and is excited to offer encouragement as her Scholars continue their search. She believes they are getting started at just the right time.
"Starting visits junior year allows students to have more time to explore a variety of schools which is important as students begin to define their interests and shape their college fit," advises Anya. "And don't forget – colleges start to offer formalized visits for juniors. So they should contact schools and take advantage of these opportunities!"