JKCF Young Scholar College Tour Summer 2013
If you are a high school student thinking about going to college, one of the best ways to determine if a college is right for you is to experience the campus yourself. Visiting schools helps you to move beyond glossy admissions brochures and fancy websites to get a real feel for the school and its student body. When Jack Kent Cooke Foundation Educational Adviser Cristina Ramos took a group of Young Scholars who are about to apply to colleges on a campus tour, this certainly proved to be the case. Here is Cristina's account of their adventures:
After Scholars Weekend, 34 Young Scholars embarked on a college tour with me. They went because they wanted to learn more about the schools they were interested in and to complete the list of colleges they planned to apply to.

Day 1, Sunday, August 4 – The gang at the Franklin Institute in Philadelphia, Pennsylvania.
On this tour we visited a variety of schools. They ranged from small liberal arts colleges like Swarthmore and Goucher College to major research universities like The University of Pennsylvania, Johns Hopkins University, George Washington University, Howard University, and Georgetown University.

Day 2, Monday, August 5 – The gang in Baltimore, prior to boarding the Seadog Harbor Cruise.
The tour was an eye-opening experience for the participants. One Scholar added Swarthmore College to her list because, "Swarthmore's application process is need-blind. Students accepted there will not need to worry as much about acquiring loans. Additionally, the campus is located in the beautiful suburbs of Philadelphia and has plenty of green space. Lastly, our tour guide discussed several community service opportunities which indicates the importance of social justice for the students." Another Scholar solidified his strong interest in Howard, George Washington, and Georgetown because he wanted to study political science and saw that the nation's capital would provide an excellent learning opportunity for his chosen field. Another student removed the University of Pennsylvania from her list. She was very attracted to its One University Policy, which allows students to take classes from any of its schools, but she also came to realize that she would still prefer a smaller school in a suburban setting.
We did not forget to have a lot of fun along the way. We toured The Franklin Institute in Philadelphia, took a "Philly by Night" Bus Tour, went on a Baltimore Harbor Cruise, and saw many of the monuments in Washington, DC. True to Foundation events form, taste buds were also satisfied on our journey as well. We ate at the Hard Rock Café in Philly, Bubba Gump Shrimp Company in Baltimore, and Mai Thai of Georgetown, to name a few of our favorites.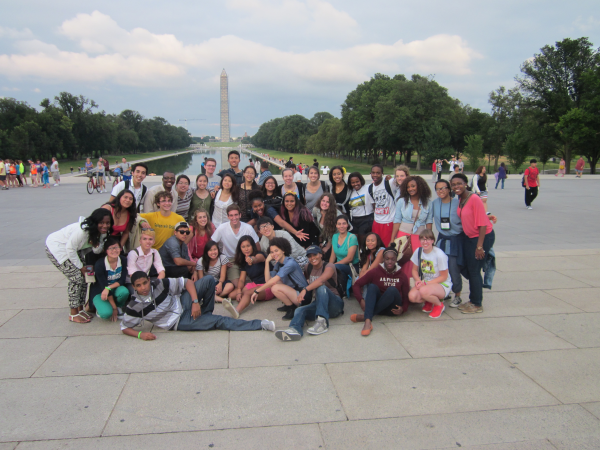 Day 3, Tuesday, August 6 – The gang at the Lincoln Memorial in Washington, DC.
All those who went on the tour are thankful to the Foundation and Uncle Jack for another great experience. Senior year is quickly approaching, and they are already better prepared for it because they went on this college tour. It's going to be a great year!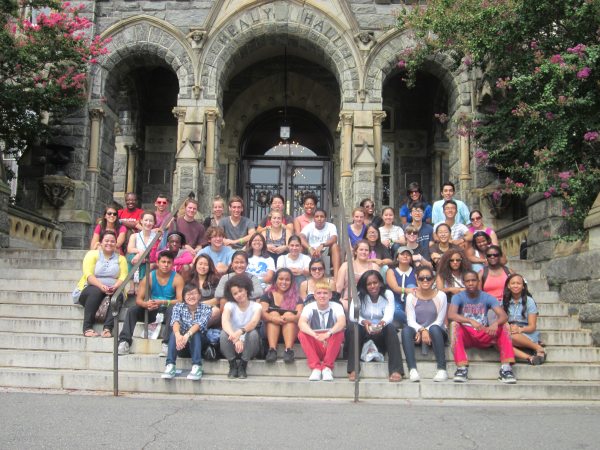 Day 5, Thursday, August 8 – The gang at Georgetown University in Washington, DC.