Loudoun Symphony Youth Orchestra "PREPs" Musicians to New Levels
In spring 2015, the Loudoun Symphony Youth Orchestra (LSYO) received a Good Neighbor Grant from the Jack Kent Cooke Foundation to underwrite an intensive training program for 60 young musicians called the Preparatory Retreat for Excellence (PREP). The first session of PREP took place at Hylton Performing Arts Center in Manassas, Virginia, between November 13, 2015, and the second session is scheduled for February 13-15, 2016. The goal of the program is to prepare LSYO to make an audition tape to be submitted to several prestigious summer music programs.
PREP Session I was designed to be an immersion program featuring a series of master classes and sectional training led by six high-caliber coaches to elevate individual performances and section cohesiveness.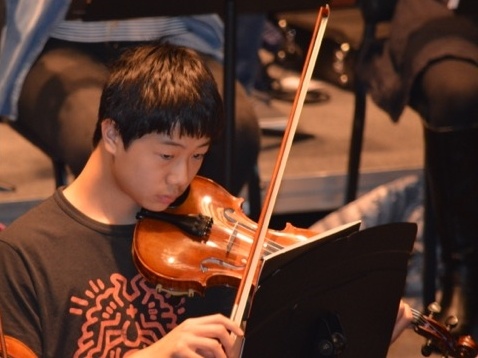 "The entire orchestra reached a level of playing not normally achieved at this stage of the season" noted Dr. Yeong Su Kim, LSYO's conductor.
"For many LSYO students this was their first exposure to this kind of immersion into their art, and they were transformed by it. It also offered [each musician] a new set of eyes to look at the larger picture of playing music and their instruments. . . The connectiveness of the orchestra three months into the season is much deeper than sometimes what you see at the end of the season."
The grant came at a particularly exciting time for the Loudoun Symphony Orchestra (LSO), as the organization is celebrating its 25th year of providing first-class live orchestral music for the people of the Loudoun County region. To celebrate this special anniversary, the LSO will perform six concerts including the annual holiday concert on December 5 and the final concert on April 30, 2016, which will feature the winning composition of the LSO American Composer Competition, Steven Snethkamp's Interstellar Arias. In addition, this past October, the LSO participated in the prestigious Middleburg Film Festival by playing in the concert honoring film composer, Carter Burwell—the festival's distinguished film composer awardee.
The Loudoun Symphony provides a wide range of educational outreach programs to foster the love of classical music among people of all ages including in-school concerts and the Loudoun String Workshop which gives string musicians of any age or ability level the opportunity to rehearse regularly and perform. For further information about PREP and LSO, visit http://loudounsymphony.org/ or contact Loudoun Symphony general manager, Karen Knobloch at admin@loudounsymphony.org or 703-771-8287.
The Jack Kent Cooke Foundation's Good Neighbor Grants program provides small grants to youth-serving nonprofit organizations in the Washington, D.C., metropolitan region that are helping students with significant financial need reach their full potential through education. Learn more about the Good Neighbor Grants program.
Special thanks to Karen Knoblock for the quotes, information, and photos provided for this blog post.