3 Facts on Pell Completion from the Department of Education
A new report from the Department of Education reinforces the agency's focus on college access and affordability. The Jack Kent Cooke Foundation's executive director, Harold O. Levy, comments that lowering the barriers that academically talented low-income students face in admissions "will benefit not just the students themselves, but our nation as a whole. If ever there was a bipartisan issue, this is it."
"Fulfilling the Promise, Serving the Need: Advancing College Opportunity for Low-Income Students" discusses the growing national movement to enhance access and success at the state level as well as the institutional level, and recognizes the colleges and universities who are outperforming their peers. Here are three of the most powerful facts and findings from the report:
1. The report identifies metrics that can be used to measure an institution's support for Pell grant students.
Using data from the College Scorecard and The Education Trust's Pell Partnership project, the report uses the following metrics to report on success:
Percentage of Pell recipients enrolled
Percentage of Pell recipients graduating in 6 years (compared to the percentage of all students graduating in 6 years)
Percentage of Pell recipients earning more than $25,000 6 years after enrolling
Annual net price for education for low-income students
2. Some instutions outperform their peers in recruiting, supporting, and graduating low-income students.
The Department of Education lists names colleges and universities who are "outperforming their peer institutions":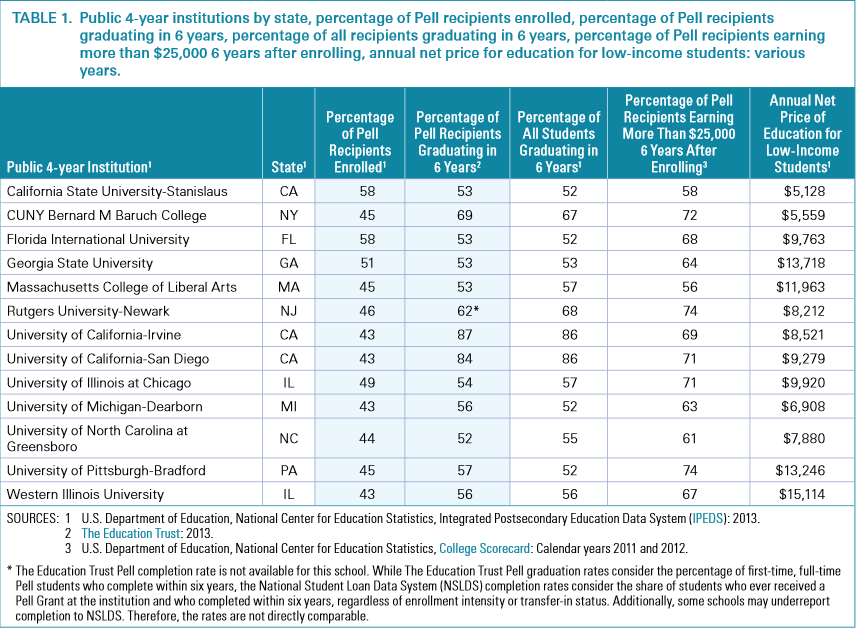 3. The most selective schools may enroll the smallest share — and numbers — of low-income students.
Citing our "True Merit" report, the Department of Education notes that college students from families in the bottom economic quartile comprise only three percent of enrollment in the most competitive schools, while those from the top economic quartile comprise 72 percent.
Read the Cooke Foundation's press release or the full report from the Department of Education.