Announcing the Five Finalists for the $1 Million Cooke Prize
FIVE COLLEGES & UNIVERSITIES FINALISTS FOR $1 MILLION COOKE PRIZE: AMHERST, DAVIDSON, POMONA, RICE AND STANFORD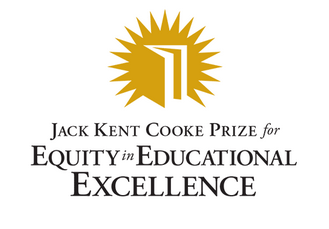 LANSDOWNE, Va. – Five colleges and universities are finalists for the $1 million Cooke Prize for Equity in Educational Excellence, which goes to a selective college or university with an excellent record of admitting, supporting and graduating outstanding low-income students. The finalists are: Amherst College in Massachusetts; Davidson College in North Carolina; Pomona College in California; Rice University in Texas; and Stanford University in California.
Jack Kent Cooke Foundation Executive Director Harold O. Levy, who announced the finalists today, said the Cooke Foundation expects to award the prize later this spring.
"The Cooke Prize is the largest award in the nation given to an elite college for eliminating arbitrary barriers to admission and promoting the success of high-achieving students from low-income families," Levy said. "All the finalists for this prize have undertaken major initiatives to create equal educational opportunity for students regardless of their family income, and we want to shine a spotlight on their achievements so other schools can learn from their success."
The Cooke Prize was first awarded in 2015, going to Vassar College in New York. Vassar raised its percentage of low-income students (those eligible for federal Pell grants) by 11 percent since 2008 – more than any other college ranked "most competitive" by "Barron's Profiles of American Colleges." About 23 percent of Vassar's freshmen are eligible to receive Pell grants.
A recent study by the Cooke Foundation found that only 3 percent of students at top colleges across the nation come from the poorest 25 percent of families, while 72 percent of students at these colleges come from the richest 25 percent of families.
"The message here is that students from poor and working-class families are in danger of almost disappearing at many elite colleges, the middle class is being squeezed out and the wealthy are dominating," Levy said. "The rich have an unfair advantage, creating a cash ceiling that blocks the upward mobility of some absolutely brilliant young people from struggling families who could thrive at top colleges if only they could get in. The five finalists for the Cooke Prize have proven by their actions that this ugly trend can be reversed, keeping the American Dream alive for all."
Here are highlights of actions the finalists have taken on behalf of low-income students:
Amherst College, a liberal arts college with 1,790 undergraduates, maintains a need-blind admission policy for all students, and meets the full demonstrated need of all admitted students without requiring loans. As a result, nearly 25 percent of Amherst students receive federal Pell grants, 58 percent of students receive need-based financial aid and the college provides no merit aid. Amherst began participating in the Cooke Foundation's Community College Transfer Initiative in 2006, and increased enrollment of community college transfer students from zero or one annually to 12-15 each year. The initiative also helped Amherst build an infrastructure to better meet the needs of transfer students, military veterans and first-generation and low-income college students. Amherst provides low-income students with funding for educational travel and study abroad, stipends for otherwise unpaid internships and career development mentoring; and is shaping programs to meet the social, psychological and health needs of all students.
Davidson College is a liberal arts college with 1,950 students that created The Davidson Trust in 2007 to raise scholarship funds. It meets 100 percent of the demonstrated financial need of accepted students through a combination of grants and campus employment, without relying on loans. Enrollment of low-income students has risen to 14 percent in the current freshman class. About 51 percent of Davidson students receive need-based aid from the college, and 70 percent receive aid in total. Davidson partners with the College Advising Corps, sending recent graduates to serve as full-time college advisers in under-resourced high schools in North Carolina. The college works with nonprofit organizations to recruit low-income students and help them complete their applications and financial aid requests. It also provides academic and social support services for these students. Davidson offers free online Advanced Placement courses to students around the world in calculus, physics and macroeconomics.
Pomona College is a liberal arts college with just over 1,600 students that meets the full demonstrated financial need of students (including undocumented students who graduate from U.S. high schools) with grants, scholarships and a small work stipend, without loans. Fifty-seven percent of students receive need-based financial aid from the college and 66 percent receive some form of financial aid, including outside loans and scholarships. The college offers a comprehensive range of targeted programs and services designed to ensure that all students thrive and succeed. Pomona College is committed to recruiting low-income, community college, first-generation, immigrant, refugee and undocumented students from ethnically diverse backgrounds. The college estimates there are about 62 undocumented students (4 percent of the student body) enrolled in the current academic year. The college has also developed recruitment and admissions strategies to address the specific needs of underrepresented students.
Rice University is a research university with over 3,900 undergraduate students and over 2,800 graduate students that provides aid to meet 100 percent of a student's demonstrated financial need. Currently, 17 percent of Rice students are from low-income families. Rice created OpenStax, the leading developer of digital free and nominal-cost textbooks for Advanced Placement and college courses. The online textbooks are in use this academic year in 2,500 courses at 1,500 schools, including 800 community colleges. Since 2012, OpenStax has allowed 674,000 students to save $66 million. In addition, Rice's Center for College Readiness has worked with 65,000 educators and high school students from every state and 53 foreign countries to prepare students for college success. Rice faculty members work with organizations to reduce the achievement gap between low-income and more affluent K-12 students in Houston schools and around the nation.
Stanford University is a research university with about 7,000 undergraduate and 9,100 graduate students. The university meets the full demonstrated financial need, without loans, for every admitted undergraduate who qualifies for financial assistance. About 47 percent of students receive need-based financial aid from Stanford, and 70 percent receive some form of aid. Stanford runs a national outreach program to recruit low-income students, including a program that brings high school counselors from disadvantaged communities to the university to learn about opportunities for their students. It operates both a Diversity and First Generation Office and Transfer Advising Program to provide services that help low-income students acclimate to the university and succeed. Outreach efforts by the university have increased the number of first-generation students applying to Stanford from 12.7 percent in 2007 to 20.2 percent in 2016. In the 2013-14 school year 15 percent of incoming freshmen received Pell Grants.
The Jack Kent Cooke Foundation is dedicated to advancing the education of exceptionally promising students who have financial need. It offers the largest scholarships in the U.S., comprehensive counseling and other support services to students from 8th grade to graduate school. Since 2000 it has awarded about $147 million in scholarships to more than 2,000 students and $90 million in grants to organizations that serve outstanding low-income students. www.jkcf.org
# # #