Bringing History to Life Through Arts Enrichment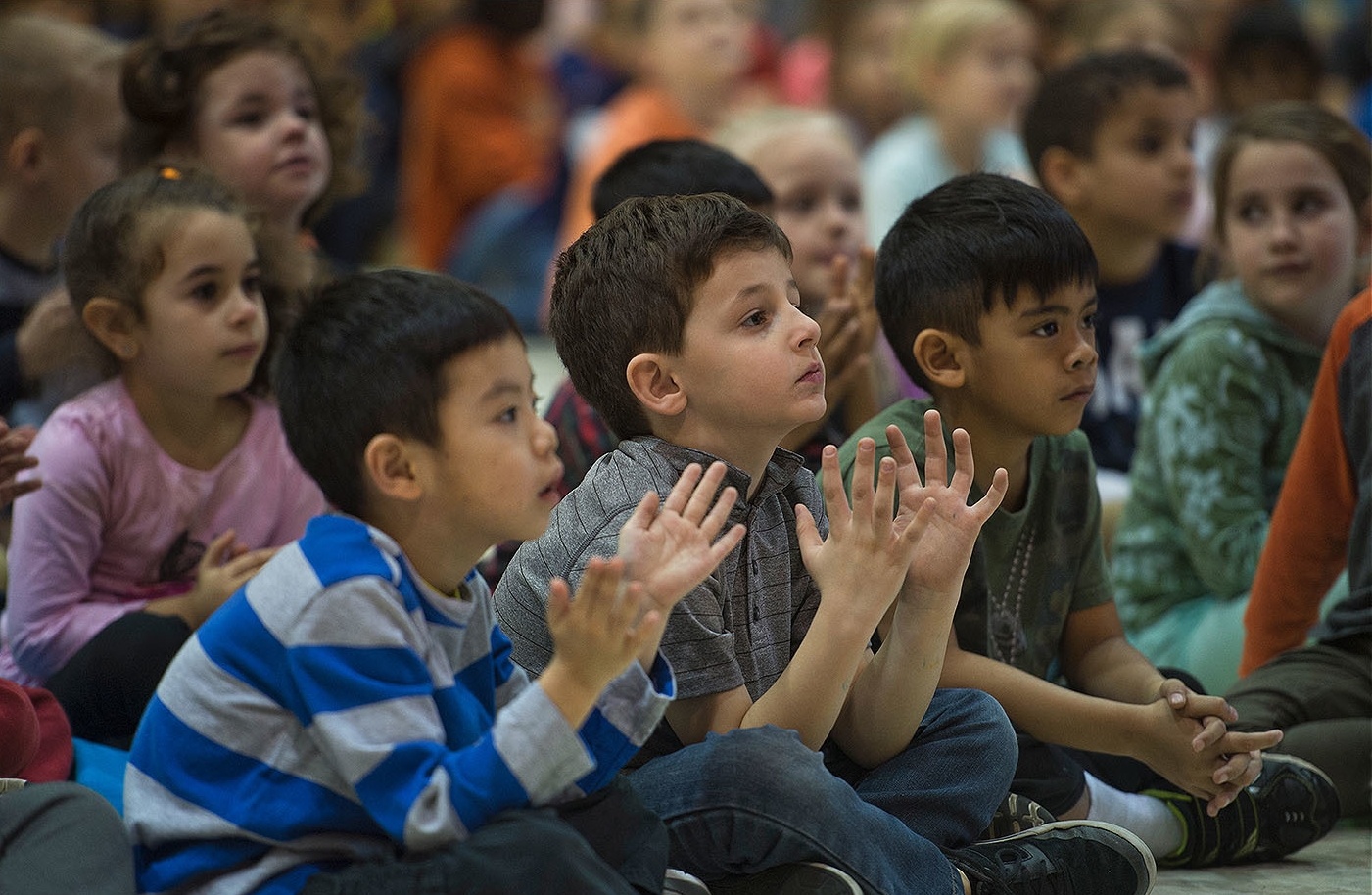 Dominion Trail Elementary students participate in a Cooke Foundation-funded Bluemont assembly in February 2017. (Douglas Graham/Loudoun Now)
If you've ever turned on music to escape, listened to the Hamilton soundtrack, or sang the ABC's, you know that music teaches us something.
School assemblies are a staple in elementary schools, providing valuable enrichment opportunities outside the classroom. However, funding a musical artist or performing arts troop for multiple assemblies is not an easy expense for public schools on a limited budget.
Bringing in high-quality performers can often cost between $500 and $2,000, making arts enrichment an infrequent treat or a missed opportunity at most schools. For years Bluemont Concert Series has hosted their Artists-In-Education (AIE) program, organizing an array of quality musicians and performers for local events and school assemblies.
To help alleviate the financial burden for under-resourced schools in Loudoun, Fauquier, and Clark Counties in Virginia, the Cooke Foundation awarded Bluemont a Good Neighbor Grant of $20,000 to enhance the AIE program and lower the cost of assemblies for schools to an average of $100 an hour.
What makes Bluemont's programs so valuable? Variety and relevance, allowing schools the ability to choose which performance best integrates with the current curriculum. Artists perform on a wide range of topics – such as West African culture, Native American history, American folk music, literary works, and women's history.
"The program brings the curriculum off the pages so the kids can relate to these [historical] figures as real," said a third grade teacher from Boyce Elementary.
This year AIE performers included such artists as Billy B., who blends zany humor with environmental science (video below); and Sparky and Rhonda Rucker, folklorists, historians, musicians, storytellers, and authors who present programs focusing on the Civil War and the Civil Rights Movement.
Sparky Rucker sings an old folk song as part of Spary and Rhonda Rucker's 'Heroes and Hard Times' program at Dominion Trail Elementary. (Douglas Graham/Loudoun Now)
Bluemont's AIE program has shown powerful results, serving 4,100 students in the 2016-17 academic school year. In addition to providing 23 hours of outside-the-classroom arts enrichment at 15 schools, Bluemont has performed for local youth at Boys and Girls Clubs and homeless shelters.
"We aim to develop the relationships critical to extending the program to new facilities and to providing quality programs to serve students with the greatest need," says Lily Dunning Widman, Bluemont's Executive Director.
In the upcoming year, Bluemont will focus their efforts on bringing their rich programming to additional high-need schools and audiences in underserved communities.
The Jack Kent Cooke Foundation Good Neighbor Grants program supports youth-serving nonprofit organizations in the metropolitan Washington, DC region that are helping students with financial need reach their full potential through education. Deadline to apply is November 1, 2017 at 5:00 p.m. ET.