Advanced Students & Early Decisions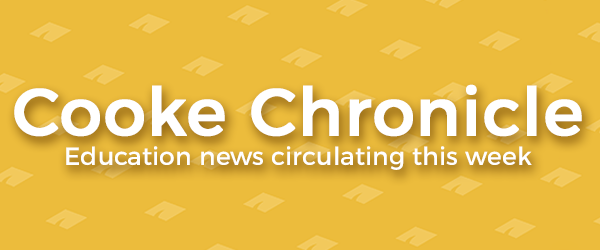 April 13, 2018 – Here's our weekly roundup of education news you may have missed. Policy wonks interpret the Nation's Report Card, and student hunger and challenges for first-generation college students are discussed in higher ed.
Receive the Cooke Chronicle each week in your inbox: Subscribe here.
Elementary & Secondary Education:
The latest results of the National Assessment of Educational Progress (NAEP) were released this week. The Atlanta Journal-Constitution reports that "more students reached that most rarified of NAEP levels – advanced — in 2017 than in 2007 in both grades, both subjects, and every subgroup." However, as Education Week noted: "Achievement gaps remained stubbornly wide for particular student groups," including students in poverty.
The Education Trust discusses the importance of ensuring "extraordinary school leaders" across the nation.
Higher Education:
In light of a Department of Justice investigation into information sharing among college admission offices, The Atlantic examines early decision admissions and perceptions of fairness.
A new study from the National Center for Education Statistics reveals obstacles to college success often encountered by first-generation students. Third Way provides a summary of the findings.
"Students – particularly those coming from low-income families – are going hungry, and researchers say it's largely because the price to earn a degree has become so steep," states The Texas Tribune.
Cooke Foundation Highlights:
The foundation announces the 47 community college students who are recipients of the 2018 Cooke Undergraduate Transfer Scholarship. Each new Cooke Scholar will receive up to $40,000 annually to complete their bachelor's degree, along with comprehensive educational advising and opportunities for internships, study abroad, and graduate school funding.
In Hotty Toddy, read about the engaging AP courses that the Mississippi Public School Consortium for Educational Access is providing for high-achieving, rural students. The Cooke Foundation has committed $200,000 in grants to the Consortium as part of our Rural Talent Initiative.
The latest USACollegeChat podcast shares findings from our "True Merit" report, and encourage high-achieving students with financial need on how to choose a college from their admissions offers.
Social Media Spotlight:
Alan Royal, our senior outreach and partnerships manager, presents @ChicagoScholars with the 2018 @NPEdAccess and Cooke Foundation Award for Excellence in Educational Access, honoring the organization's commitment to college access in the city of Chicago. #NPEA2018 pic.twitter.com/7QNNjyVYNo

— Jack Kent Cooke Foundation (@TheJKCF) April 12, 2018