Cooke Chronicle: Dec. 16, 2016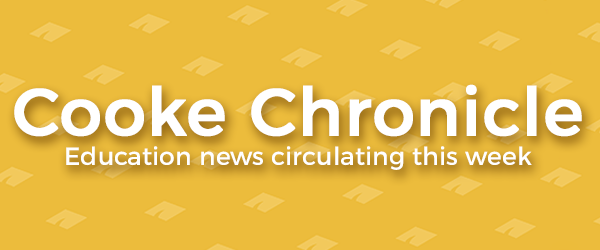 Dec. 16, 2016 – Here's our weekly roundup of education news you may have missed. Investing in students pays off, and advocates in both the K-12 and higher ed realms encourage support for high-achieving students with financial need.
Elementary & Secondary Education:
Higher Education:
The American Talent Initiative, a Bloomberg Philanthropies collaboration with 30 colleges signed on, announces its 10-year goal to enroll an additional 50,000 talented low-income students in institutions with high graduation rates. Inside Higher Ed's coverage of the initiative includes comments from Executive Director Harold O. Levy.

Low-income students are less likely to receive mentoring beyond their extended family. The Atlantic looks into what makes a positive mentorship experience.

Despite broad support for providing students with potential earnings data to guide their college choice, a recent data analysis from The Urban Institute finds that "only about a third of high school seniors can use earnings data to make a meaningful distinction between programs of study at two or more institutions."
Cooke Foundation Highlights:
Along with the Center for American Progress and the Thomas B. Fordham Institute, we are encouraging governors and state superintendents to keep high-achieving, low-income students in mind as they design their accountability systems. Our joint letter is available to read in Education Week (paywall) and The High Flyer blog from Fordham.

In an opinion piece for Fox News, our executive director shares ideas on how the incoming administration can use edtech to support equity.

The foundation is also mentioned in The Chronicle of Higher Education's advice for grant seekers, and a piece on the college preparation process from U.S. News & World Report.
Social Media Spotlight:
Two @TheJKCF Scholars at Columbia + Milkshakes = A successful reading week before finals.

We're thinking big, working hard & achieving! pic.twitter.com/OtpWu4VYAD

— Katie Curran (@KatieNCurran) December 13, 2016