Cooke Chronicle: Nov. 11, 2016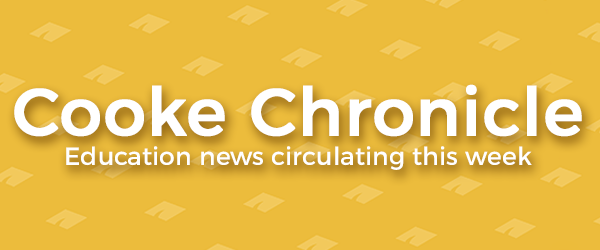 Nov. 11, 2016 – Here's our weekly roundup of education news you may have missed. Several scholars and publications are attempting to understand how the surprising election results will affect education policy.
Elementary & Secondary Education:
How will K-12 education look under President-Elect Trump? According to BuzzFeed, Ben Carson and William Evers are top contenders for secretary of education. Politico adds that Betsy DeVos and Kevin Chavous may also be under consideration.
The Trump transition team lists the following priorities: "high-quality early childhood, magnet, STEAM or theme-based programs; expansion of choice through charters, vouchers, and teacher-driven learning models; and relief from U.S. Department of Education regulations that inhibit innovation."
Full coverage of state ballot initiatives and other education-related races is available from The 74 Million.
Higher Education:
The Chronicle of Higher Education reports that a complete elimination of the Department of Education may be unlikely, however many policy experts including Sara Goldrick-Rab and Robert Kelchen have speculated on changes affecting college access and affordability.
Undocumented students who have been able to attend college under the Deferred Action for Childhood Arrivals (DACA) program are worried that a potential end to the program could mean an end to their current status or even deportation, says Inside Higher Ed.
"If, in fact, much of the anger that helped boost Donald Trump to his victory in the presidential election is economic, higher education may be vital to reversing it," states The Hechinger Report.
Cooke Foundation Highlights:
High-achieving high school seniors with financial need have until Nov. 30 to apply for our $40,000 per year College Scholarship Program. We are also accepting Good Neighbor Grant proposals from educationally-focused nonprofits in the DC area until Nov. 15.
The Register-Mail in Galesburg, Illinois announces that Masha Lakisova, a Jack Kent Cooke Young Artist Award recipient, will be performing with the Knox-Galesburg Symphony this Saturday.
Cooke Scholar Georgi Dimitrov has received the Viola Award from the Maestro Foundation of Los Angeles, reports the University of Southern California's Thornton School of Music.