Cooke Chronicle: Nov. 18, 2016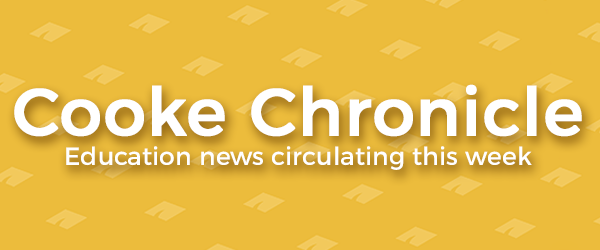 Nov. 18, 2016 – Here's our weekly roundup of education news you may have missed. Popular articles focus on sanctuary campuses for undocumented students and the barriers to academic success for many low-income students.
Elementary & Secondary Education:
"Kids are facing serious challenges, including family or personal crisis; poverty, hunger, homelessness; the need for mental or physical health care; and for English language support," notes a new report from Scholastic.

As reported by Education Week, Secretary of Education John King stated that his successor should "have a good understanding of the diversity of providers in early learning, K-12 and higher education across those sectors; and have a strong commitment to the historical role of the Department in protecting students' civil rights."
Higher Education:
The concept of "sanctuary campuses" and potential strategies to support their undocumented students are discussed by The Chronicle of Higher Education, The Washington Post, and Inside Higher Ed. California State University has already announced that it will not enter agreements with law enforcement agencies to enforce immigration law, reports the Los Angeles Times.

"Despite 97 percent of schools stating they believe in a fair admissions process, we were surprised to find that 41 percent of schools have no process in place to reduce bias in the admissions process, and, of those schools, 71 percent have no intentions to add a process in the future," according to Kira Talent.

Although students can file the FAFSA earlier than before with prior-prior year IRS data, NPR reports that there are still several aspects of the form that can be challenging for students and their parents.
Cooke Foundation Highlights:
High-achieving high school seniors with financial need have until Nov. 30 to apply for our $40,000 per year College Scholarship Program.

Executive Director Harold O. Levy's latest Forbes op-ed calls for federal policy to boost college enrollment of low-income students.

The Journal-Advocate shares how Cooke Scholar Brian Brush's "LuminArc" sculpture was chosen to mark the entrance of the building housing Northeastern Junior College's fine arts programs.
Social Media Spotlight:
What's happening this morning? @TheJKCF scholar Michael Sutton will be a panelist at the White House summit on diversity and inclusion! pic.twitter.com/slp0n44EPX

— Astrik Tenney (@astrik_tenney) November 18, 2016