Cooke Foundation Honors 3 Scholars for Outstanding Service to their Communities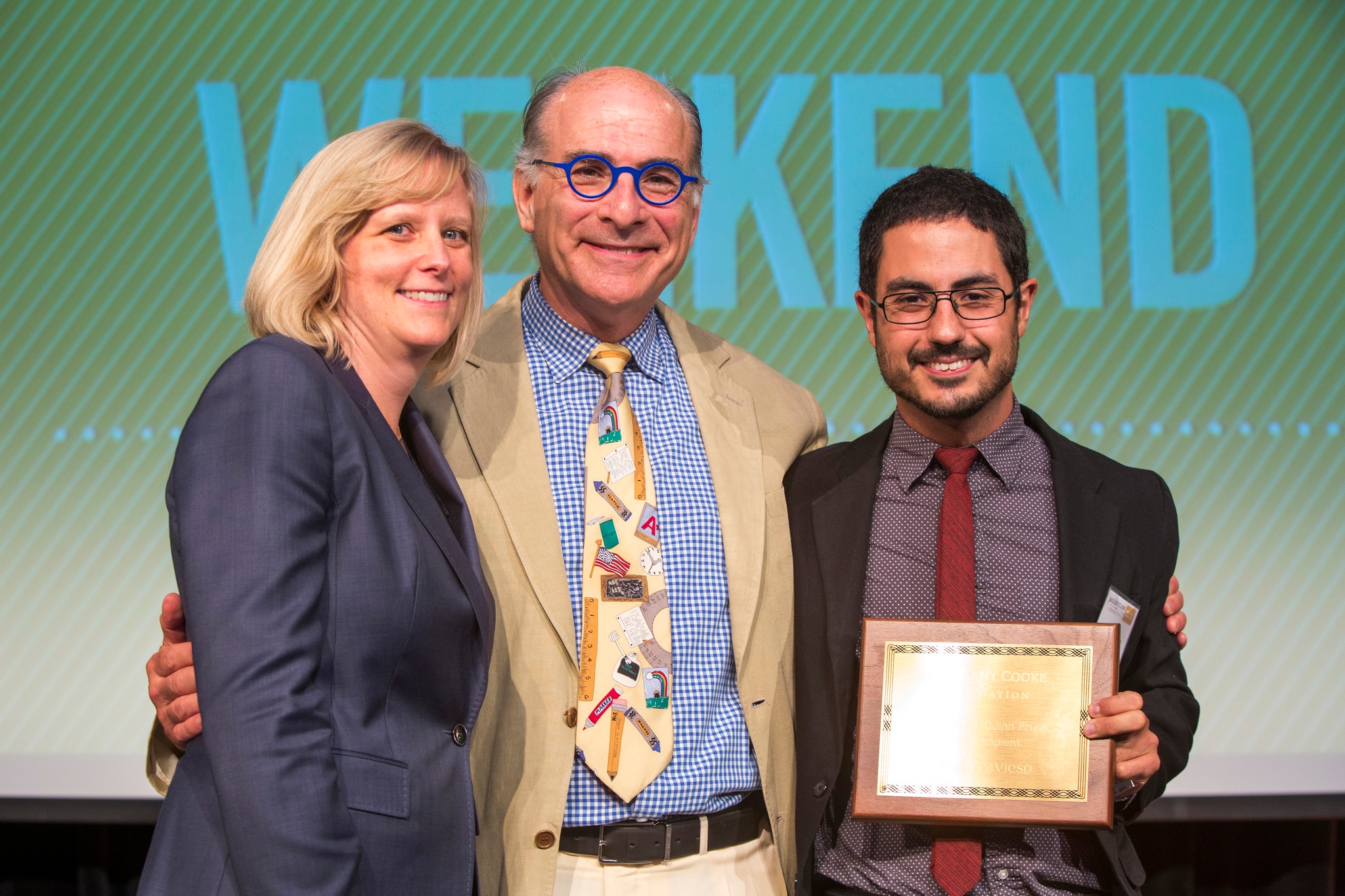 Cooke Foundation Recognizes Three Scholars for Outstanding Contributions to Their Communities
LANSDOWNE, VA – For their outstanding contributions to the communities in which they live, Jack Kent Cooke Foundation Graduate Scholar alumnus Chat Travieso has been awarded this year's $10,000 Matthew J. Quinn Prize. In addition, Cooke Young Scholars Agata Bykovtsev and Sarah Sahibousidq have each been awarded a $2,500 Matthew J. Quinn Youth Leadership Award.
"Our Quinn award recipients are an inspiration to us all," said Executive Director Harold Levy. "Chat, Agata, and Sarah exemplify the traits that marked the Cooke Foundation's founding executive director's career—integrity, leadership, public service, love of learning—and inspired the creation of these prizes in his honor. Their commitment to social engagement is a model for all of us to admire."
Chat Travieso received a master's degree in architecture from Yale University in 2010. Since starting his own art and design practice in 2013, he has made an artistic and environmental impact in New York City through his public art projects. In collaboration with the Architectural League of New York, New York Department of Transportation and other community organizations, he has produced public art installations that have been featured in The New York Times, The Wall Street Journal, and several urban design periodicals. He was awarded the 2015 Quinn Prize for his commitment to improving New York City and particularly its low-income neighborhoods in a socially conscious and creative way.
Agata Bykovtsev, a Cooke Scholar and rising high school junior in Goleta, California, received a Youth Leadership Award for spending the past year volunteering with the Isla Vista Afterschool Project teaching chess to low-income elementary school children in a program she created. Agata designed the curriculum, prepared lessons plans, and purchased the chess sets for the program with her own money, although she herself has limited means. She hopes to help build logic and strategic thinking skills in young children through the program. Agata is a world ranked chess player, a female FIDE (World Federation of Chess) master, a WIM (Woman International Master), a national chess master, and was gold medalist at the Pan American Chess Championship in 2014 and the North American Junior U20 Chess Championship in 2015.
Sarah Sahibousidq, a Cooke Scholar and rising high school sophomore in Naperville, Illinois, received a Youth Leadership Award for creating a mentoring program at her local elementary school and for establishing a summer science club for younger children in her community. Her mentoring program helps students build academic and social skills by engaging 5th graders to mentor 1st-4th graders and high school students to guide them. In order to make sure that students are able to participate regardless of their ability to pay, Sarah uses her earnings from babysitting to fund the science club and mentoring program, as well as pay for materials.
The Jack Kent Cooke Foundation is dedicated to advancing the education of exceptionally promising students who have financial need. By offering the largest scholarships in the country, comprehensive counseling and other support services to students from 7th grade to graduate school, the Foundation is dedicated to ensuring high-performing, low-income students have the support necessary to develop their talents and excel educationally. In addition to its scholarship programs, the Foundation provides grants for innovative, high-impact initiatives that benefit such students. By doing so, the Cooke Foundation seeks to use its resources to end the Excellence Gap, the disparity between the number of low and high income students who reach the top levels of academic performance. Founded in 2000, the Foundation has awarded $130 million in scholarships to 1,900 students and over $80 million in grants. www.jkcf.org
###