Cooke Foundation Welcomes Young Scholars
Scholars sign their cohort banner at the end of Welcome Weekend 2015.
The Jack Kent Cooke Foundation enables high-ability middle and high school students with financial need to realize their full academic potential. Through its
Young Scholars Program
, the Cooke Foundation has to date supported 600 students from across the nation, providing them with individualized educational advising combined with comprehensive financial support from the 8th grade through high school.
Every year, the foundation brings Young Scholars and their families or chaperones together for an activity-filled weekend the summer before 9th grade to welcome them to Young Scholars Program and the Cooke Foundation community."Before Welcome Weekend, scholars and families interact primarily with their educational adviser, and so this one person essentially represents the foundation. It's not until Welcome Weekend that Young Scholars truly feel the comprehensive support system that is the Young Scholars Program: they meet thirteen more educational advisers and Cooke Foundation staff, and they engage with their cohort for the first time. The weekend has an energy that leaves scholars feeling excited and inspired to make the most of all that the program has to offer. I love that at Welcome Weekend, the Young Scholars Program becomes real," said Anya Good, an educational adviser at the Cooke Foundation.
Parents and scholars activiely participate in putting together the puzzle.
"Welcome Weekend is our opportunity to welcome our newest Young Scholars to the larger Cooke Scholar community and to help them understand the world of opportunities available to them through the Young Scholars Program. Over the course of the weekend we seek to build a strong bond between the scholars and help their parents and chaperones understand that they are not alone," said Wes Spence, the events manager at the Cooke Foundation. "In the end, Welcome Weekend is about getting excited to take on the challenges of high school, to explore what makes you tick, and to realize that you have a massive support system that is eager to help you succeed."
Welcome Weekend takes place the last weekend of June at Johns Hopkins University in Baltimore, Maryland. Its location is chosen strategically to allow scholars to envision themselves on a college campus.
This year, Young Scholars and parents and chaperones took part in activities that highlighted the importance of setting realistic goals, utilizing networks, and learning how to navigate the next four years of high school. They also had one-on-one meetings with their educational advisers, heard from current College Scholars about their experiences in the program, and heard from the parents of scholars who had been successful in the program.
Dr. Ginsberg
, a pediatrician specializing in adolescent medicine at The Children's Hospital of Philadelphia and a professor of pediatrics at the University of Pennsylvania School of Medicine, spoke to groups of parents and scholars separately about, among other things, how to deal with stress and build resilience. Young Scholars also worked together to complete an amazing race like activity that focused on team-building activities while exploring the Johns Hopkins campus.
Yasmine Arrington spoke about how being a scholar changed her life.
On the second to last night, scholars, parents, and staff dressed in their finest attire to attend a dinner in the Fox Court at
The Baltimore Museum of Art
. This year's keynote speaker was
Yasmine Arrington
, former Young Scholar, College Scholar, and Matthew J. Quinn Youth Leadership Award recipient and current 2015 Graduate Scholar, who founded the nonprofit organization
ScholarCHIPS
. Her speech touched on living in the moment, trusting yourself, and how to take full advantage of being a Cooke Young Scholar.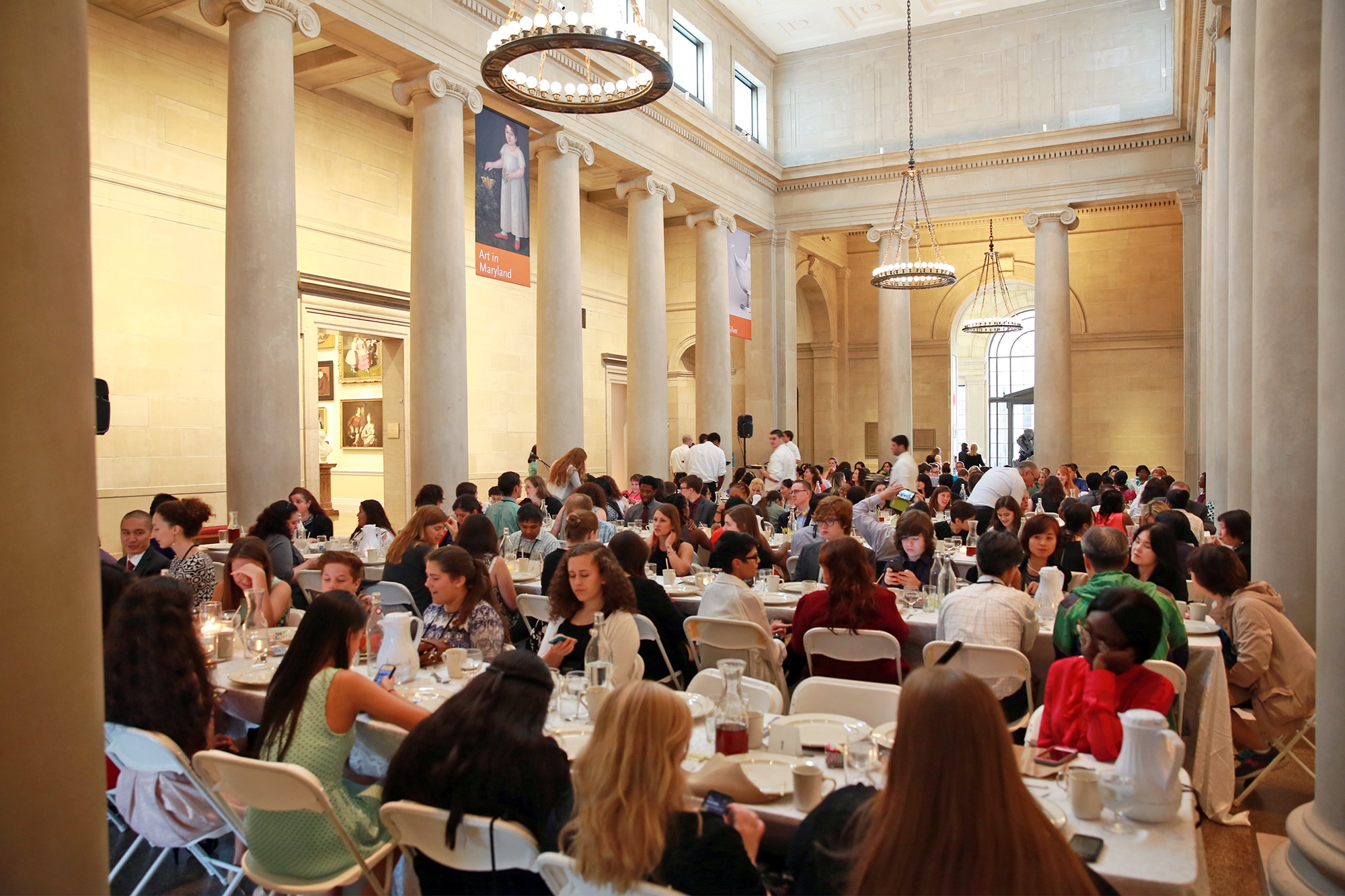 The beautiful Fox Court provided a spectacular backdrop for the final dinner.
Scholars also had the opportunity to share their talents, some of which were hidden even from their educational advisers. "Two of my scholars had come to Welcome Weekend without planning on participating in the talent share, but after seeing the warmth of the community and hearing the message of stretching outside of their comfort zone, they chose to "lean into their discomfort" and participate. I could not be more proud of them as an EA," noted Patrick Wu, an educational adviser at the Cooke Foundation. Talents ranged from dance, to singing, to playing instruments and there were even on-the-spot song and dance routines. Regardless of the particular talent, the crowd of staff, parents, chaperones, and scholars were overwhelmingly supportive of the perfomers.
Scholars pose for group photos before dinner at the Baltimore Museum of Art.
"It's greatly enjoyable to spend time with Young Scholars and their parents and witness their introduction to the greater Cooke Foundation community. Over the course of the weekend, scholars begin to realize how the Young Scholars Program can empower them to achieve their goals and make a difference in their communities. Scholars and parents leave the weekend knowing full well that the Cooke Foundation is here to support them in a variety of ways, and it means a great deal to me to get to play a part in this process," noted Matthew Keys, an educational adviser at the Cooke Foundation.