Grantee Spotlight: Journey Through Hallowed Ground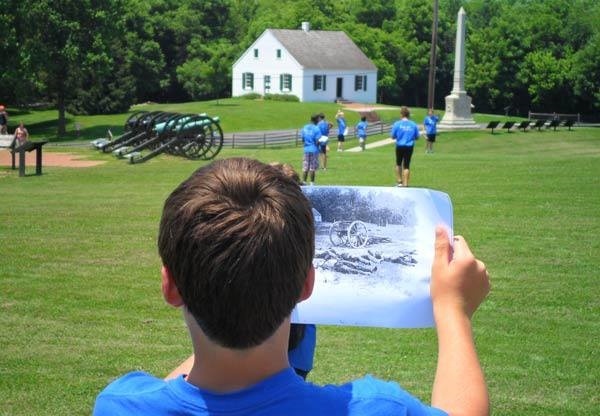 While primarily a scholarship provider, the Jack Kent Cooke Foundation identifies and invests a portion of its funding in strategic grant initiatives to expand educational opportunities throughout the United States as well as in our local region. The foundation's Good Neighbor Grants program provides us with the opportunity to partner with youth-serving nonprofit organizations in the Northern Virginia, metropolitan Washington, D.C., and Maryland areas that are helping students with significant financial need reach their full potential through education. Since 2012, the foundation has supported 32 organizations through grants between $10,000 and $35,000 who have used it to provide unique educational experiences and services for thousands of students in our area.
Here in Loudoun County, where the Cooke Foundation's headquarters are located, the Good Neighbor Grants program enabled us to partner with Journey Through Hallowed Ground Partnership (JTHG) to expand access to Extreme Journey, a two-week, experiential history-based summer experience to an 100 additional middle school students in Loudoun and Fauquier Counties. JTHG, based in Waterford, VA, is dedicated to raising national and international awareness of the unparalleled history in the region extending from Gettysburg, Pennsylvania to Jefferson's Monticello in Virginia. Its award-winning educational programs play a critical role in cultivating a "deeper interest and competency in American heritage" and promoting civic engagement.
The summer camp program, the cornerstone of JTHG educational programs, serves rising 6th to 8th grade students from the surrounding region. Using primary source documents, campers assume the identities of citizens who lived within what is now The Journey Through Hallowed Ground National Heritage Area, and start uncovering the "mysteries of history." Experiences include day trips to national heritage areas, like Jefferson's Monticello, James Madison's Montpelier, and Harpers Ferry, exploration of area's rich Civil War history, and recording stories through documentary filmmaking. The foundation's Good Neighbor grant allowed JTHG to make this immersive historical experience available to low-income students in the region by expanding the program to offer two additional camp sessions in summer 2015.
To learn more about JTHG and their education programs, please visit hallowedground.org.
The Cooke Foundation's Good Neighbor Grants program is currently accepting proposals for the 2016 cycle. The deadline to apply is December 3, 2015. Read more about applying here.