Is Your College Scholarship Application ready for Tomorrow's Deadline?
The Cooke College Scholarship Program application is due tomorrow, and we want to make sure yours is ready to submit. Here's a quick checklist of all the steps and materials that must be submitted before the application closes Tuesday, November 3, 2015 at 12:00 p.m. (noon) EST.
For additional information about completing your application, visit our College Scholarship Program FAQs page. If you have specific questions regarding your application or eligibility, please email scholarships@jkcf.org, or call our Application Help Desk at 1-800-941-3300. The Help Desk is staffed Monday-Friday from 8:30 a.m to 5:00 p.m. EST.
Print out this checklist, and then return to your application to confirm you have all the materials ready to submit.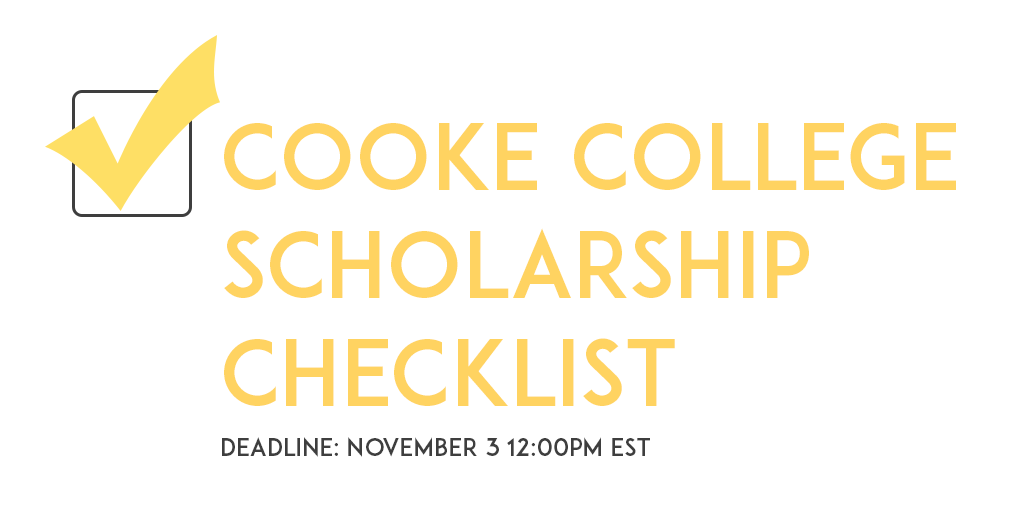 The Application:
◻

Your SAT and/or ACT scores

At least the test is finally done!
Get your score report from the SAT or ACT websites.

◻

Transcripts

We'll need transcripts from your current high school (and any other high schools you've attended), along with any additional dual-enrollment classes you've taken or are taking. Access your transcripts by asking your school's office.

◻

Short answers and essays

Our online application will guide you through a series of short answers and essays about your life. Don't stress! We just want to get a picture of who you are apart from your test scores and grades. Take your time, your answers will be saved, and you can continue every time you log back in. Need inspiration? Here are some tips on brainstorming great personal essays.
From Your Parent(s) or Guardian(s):
◻

2014 Federal Tax Return including W2s, schedules, and attachments

Probably the least fun part of the application, we know, and the part you have the least control over. Here's what a W2 looks like, so you can help dig yours up. Do your parents still need to file? Visit the IRS for more information. If your parents haven't filed and don't plan to, you can still apply. Visit our FAQs for help.

◻

2013 Federal Tax Return, 1040 form only

Here's what a 1040 form looks like.

◻

2012 Federal Tax Return, 1040 form only

Here's what a 1040 form looks like.
From Your Teachers:
◻

Recommendation #1

Your first recommendation should be from a teacher you had for a core academic class in 11th grade. Here's a guide on how to ask for a recommendation and when you should start.

◻

Recommendation #2

Your second recommendation should be from a teacher or professor who can speak to your academic ability, leadership, achievements, and character.