JKCF Alumni Spotlight: Brady Redfearn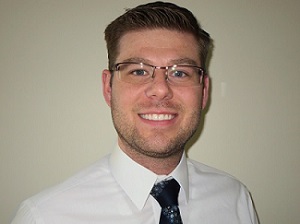 It is not very often that a job takes a page from a comic book; however, there are those rare occurrences where life and science fiction intersect. It is at that corner of vocation and nerd where you will most likely find JKCF alumnus, Brady Redfearn.
2007 Undergraduate Transfer Scholar Brady Redfearn was introduced to user experience engineering as an undergraduate at Brigham Young University. After being named a 2010 Jack Kent Cooke Graduate Scholar, Brady chose to explore the field as a graduate student at BYU, where he earned his master's degree in user experience engineering in 2012 and began working for IBM shortly after completing his degree.
As a user experience engineer for IBM, Brady is responsible for ensuring that IBM products, InfoSphere Streams and BigInsights, match the needs of the everyday people who use the software. Many government agencies and private companies around the world use this software in order to make sense of the data that they have and determine what it means to them.
"The number one rule of user experience engineering is: 'I am not the user,'" said Brady. "User experience requires a process of understanding that is useful to anyone in any field because you have to recognize what the customers or clients need first and foremost. Technology can be great in so many ways, however, it is not always user friendly. My job is to look at the software and determine how to make it easier for the consumer to use."
When Brady is not retooling IBM software for everyday use or spending time with his family, he is hard at work, studying for his doctorate in user experience engineering at Virginia Tech. It was his advisor who first approached him about the TALOS project—the government's attempt to build an Iron Man suit to serve as protective armor and help special operations forces on the battlefield.
"Working on TALOS is every nerd's dream," said Brady. "The concept is so future forward and so cool. Virginia Tech's Applied Research Corporation has worked on it for the last year, and they needed someone with a background in User Experience to get involved with the project."
TALOS, which stands for "Tactical Assault Light Operator Suit" is a five-year project, which Brady hopes to be a part of for as long as possible. He has had the opportunity to interview dozens of people who have special operations experience in the military in order to determine what information a soldier would need to know, how best to convey that information, and what time that information needs to be conveyed. Those involved closest with the project, such as Brady, hope to one day have TALOS help soldiers get to where they need to be and be aware of their surroundings—from radios not working to keeping a pulse on the sights, sounds, and smells that soldiers are experiencing.
"The difficulty is trying to pare down what can be done and what we can give the TALOS operator in reality," Brady explained. "Unlike Tony Stark's Iron Man suit, TALOS will not be able to fly…yet. And soldiers will not have Jarvis navigating their system, but it will help to protect our soldiers in the special operator community."
Brady encourages those who are in the process of determining their career paths to explore their passions. "No matter what your field, you have to enjoy what you are doing. If it happens to be in technology, that is awesome since that is where I landed, but you should explore different options until you discover what appeals to you," said Brady. " I tried a little of everything—from working as an actor to making pizzas at Little Caesars to working in construction to cleaning windows on skyscrapers and replacing light bulbs 100 feet in the air. Ultimately, it was those experiences and the mentors in my life who helped me find a career that I really enjoyed."