JKCF Celebrates 10 Years and $2 Million in Scholarships with From the Top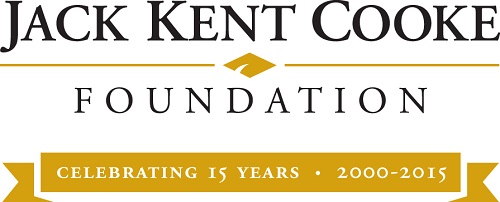 On October 24, 2014, the Jack Kent Cooke Foundation and From the Top, the preeminent showcase for young musicians broadcast weekly on NPR, celebrated their mutual 15th anniversaries as well as their 10-year partnership, with a reception and a live performance at George Washington University in Washington, D.C.
Over the past 10 years, more than 200 students have received Jack Kent Cooke Young Artist Awards. These awards, each in the amount of $10,000, are given to extraordinary young musicians—between the ages of 8 and 18—with limited financial resources across the country.
Since 2006, 18 of the Young Artists have also been recognized as Jack Kent Cooke Young Scholars. Selected at about age 13, these pianists, cellists, violinists, composers, and guitarists have worked with the Foundation staff to identify and reach impressive goals throughout their middle and high school years. They have participated in the Aspen Music Festival; attended the Perlman Summer Music School, the Boston University Tanglewood Institute, and the Verbier Festival in Switzerland, and they have taken international master classes with accomplished instructors in Israel, Germany, Italy, Poland, and France. In addition, they have excelled at elite pre-conservatory programs with Juilliard, Colburn Academy, New England Conservatory, San Francisco Conservatory, and Eastman.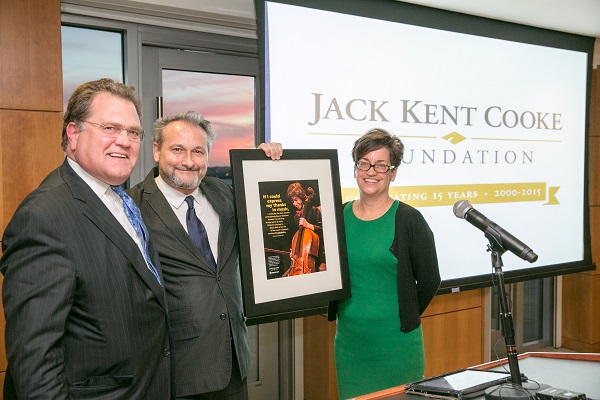 Foundation board member Stuart Haney, pianist and From the Top host Christopher O'Riley, and From the Top Co-chief Executive Officer and Executive Producer Jennifer Hurley-Wales
These experiences and many more have enabled the Young Scholars to perform as soloists with the Boston Pops and the Miami Symphony, to take first prize in national and international competitions, and to dazzle listeners, including Yo Yo Ma, Renee Fleming, and the Dali Lama, from Carnegie Hall to the Great Wall of China. Several have even made it into television and onto the big screen.
To date, ten Young Scholars have gone on to college or a conservatory as a Jack Kent Cooke Foundation College Scholar as well, attending Amherst College, Princeton University, Harvard University, Eastman, Curtis, Juilliard, and San Francisco Conservatory.  Some have had opportunities to pursue educational and professional experiences in Europe.
The Jack Kent Cooke Foundation's 15th anniversary reception featured remarks from Jennifer Hurley-Wales, co-chief executive officer and executive producer at From The Top; Christopher O'Riley, acclaimed pianist and host of From the Top, Emily Froimson, vice president of programs at the Jack Kent Cooke Foundation; Stuart Haney, Jack Kent Cooke Foundation board member; and Harold O. Levy, executive director of the Jack Kent Cooke Foundation.
The live radio recording was taped in Lisner Auditorium at George Washington University and featured breathtaking performances by three newly-awarded Young Artists:
16-year-old flutist Taiga Ultan from New York City, who is currently studying at Interlochen Arts Academy in Michigan.

15-year-old violinist Kiarra Saito-Beckman from Bend, Oregon.

8-year-old pianist Oscar Paz-Suaznabar from Alexandria, Virginia.
In addition, From the Top alumna and previous Young Artist Award recipient Marcelina Suchocka performed with her ensemble, the all-girl, New York City-based percussion group Excelsis.
The evening ended with a rousing performance by a local ensemble, the Washington Performing Arts Children of the Gospel Choir, which was formed in 1993 to celebrate the tradition and inspirational root of gospel music on America's main stages.
An audio recording of the event is available now on From the Top's website. The show airs nationally the week of November 17. In the D.C. metro area, the show will be broadcast this coming Sunday, November 23 on WETA-FM 90.9 at 6:00 p.m.