JKCF in the News: Adviser & Scholar Featured in Salina Journal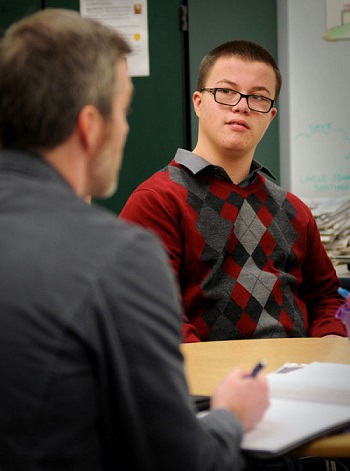 By Michael Strand
December 17, 2014
Salina Journal
Photo credit: Tom Dorsey / Salina Journal
Gage Roberts (right), an eighth-grade student at South Middle School, listens Tuesday morning to Matt Ozea, of the Jack Kent Cooke Foundation.
Seventh grade isn't too early to start thinking about college — or how to pay for it — and what comes after that.
As a seventh-grader at Salina South Middle School, Gage Roberts applied to the Jack Kent Cooke Foundation's Young Scholars Program, which accepts about 60 applicants each year from the more than 1,000 applicants.
When Gage, now an eighth-grader, starts his senior year of high school, he and the other Young Scholars in his age group will be able to apply for scholarships through the Cooke Foundation. Matthew Ozea, an educational adviser with the Cooke Foundation, said that 95 percent of Young Scholars earn the $40,000-a-year scholarship. There are also scholarships available from the foundation for graduate school and to work on a doctoral degree.
The program is geared toward exceptional students from low-income families and provides educational assistance starting in eighth grade, including summer programs around Washington, D.C., distance-learning opportunities, internships and financial assistance for such things as tutoring or music lessons.
On Monday and Tuesday, Ozea was in Salina to meet Gage and his teachers and school counselor, and to shadow him through several classes.
The visit included attending a school concert Monday night — Gage plays tenor sax — and spending time with his family.
He can be competitive
Gifted teacher Barbara Livengood told Ozea about Gage's involvement in the school robotics team, a high-altitude balloon experiment, student council and other activities.
"Students enjoy working with Gage, though he can be very competitive," Livengood said.
"I like working in teams," Roberts said, as Livengood described a recent project in which groups of students came up with development plans for a plot of land southeast of Salina.
"That's great," Ozea said. "So many times gifted students don't like working in teams."
"We work good together because we're good at different things," Roberts said.
Getting to know him
Ozea said the point of his two-day visit is to get to know Roberts. He'll stay in touch over the next several years, talking with Roberts every couple of weeks by phone, email or Skype, keeping an eye out for resources that can help prepare him for college.
The foundation doesn't try to steer students into particular fields. Rather, its goal is to help students be able to make a "meaningful impact" in whatever career they choose.
"We'll map out who this Gage Roberts is as you go through high school," Ozea told him. "We meet them where they are and support them where they want to go."
Why take harder classes
Good grades are an important part of the selection process.
"But we're looking for so much more — grit, perseverance, determination and a potential for giving back," Ozea said.
Roberts is the son of Ben and Mollie Purcell. Mollie, a Salina Journal employee, said her son often checks his grades online — sometimes twice a day — but Roberts said he's more focused on learning than grades.
"What you learn is more important than your GPA," he said. "That's why I take harder classes."
Worked to support family
The foundation was started by Jack Kent Cooke, a Canadian born in 1912 who wanted to pursue education but had to start working at an early age to help support his family.
He went on to own several newspapers and television stations, as well the Chrysler Building, the Los Angeles Lakers, the Los Angeles Kings and the Washington Redskins. When he died in 1997, the bulk of his fortune went to the foundation.