JKCF Sponsors White House College Opportunity Day of Action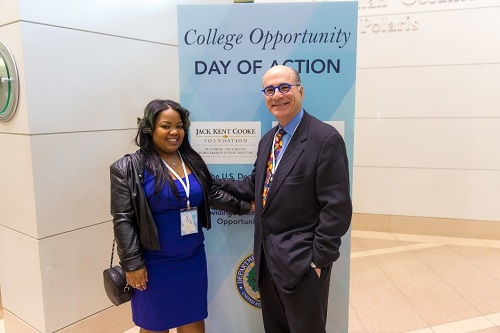 Cooke Scholar Chionque Mines and Executive Director Harold O. Levy
The Jack Kent Cooke Foundation took a lead role at the White House College Opportunity Day of Action in Washington, D.C. last week.  As a sponsor of the event, Foundation representatives joined college presidents and other education leaders in making more than 600 commitments to build networks of colleges focused on promoting completion, to create K-16 partnerships around college readiness, to invest in high school counselors as part of the First Lady's Reach Higher initiative, and to increase the number of college graduates in STEM fields (science, technology, engineering, and mathematics).
The Jack Kent Cooke Foundation committed to increasing the number of undergraduate scholarships it provides by nearly 170 each year over the next four years, from 355 undergraduate scholarships in 2013-14 to 525 in 2017-18. Its spending to support these students will grow from approximately $8 million in 2013-14 to approximately $14 million in 2017-18. The Foundation further committed to build a "chatbot" combined with a learning computer as part of an informational website for college-seeking students to enable them to navigate the college admissions process, make sense of various college rankings, and understand the steps necessary to pay for college.
The College Opportunity Summit opened with remarks by Cecilia Muñoz, the Director of the White House Domestic Policy Council; Arne Duncan, Secretary of Education; James Kvaal, the Deputy Director of the White House Domestic Policy Council; Jeff Zients, the Director of the National Economic Council; and Ted Mitchell, Under Secretary of the U.S. Department of Education. Director Muñoz also moderated a panel titled "Innovation at Scale," while Secretary of Housing and Urban Development Julian Castro later moderated a panel entitled "K-12 and Higher Education Partnerships."
Shortly before noon, Cooke Scholar Chionque Mines took the stage to introduce President Barack Obama. She shared a moving account of overcoming family challenges while growing up in a violence- and drug-stricken neighborhood in Philadelphia and described the help she had received from the Jack Kent Cooke Foundation on her path to becoming a successful student at Goucher College in Baltimore, Maryland.
"Today I'm here to say after all of the tears, stress, and doubt that college is worth it. It is an honor to not only tell you all that it is worth it, but to tell all those students who are the first in their family to go to college, like me, that it is worth it," said Mines. "I would like to proudly and genuinely thank President Barack Obama, along with all of you, for making the commitment to students to get them to and through college successfully. Thank you for committing to making college more affordable for generations to come, for raising awareness about the needs for college counseling, and for encouraging colleges to support students all the way through graduation."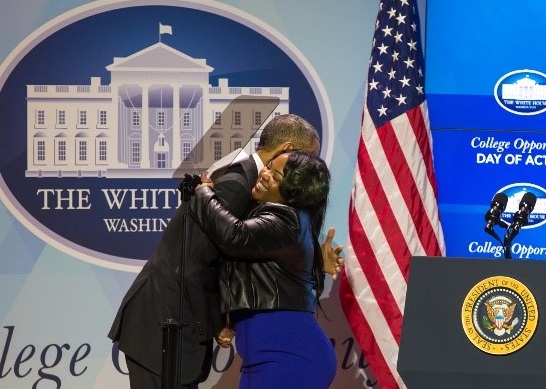 President Barack Obama and Cooke Scholar Chionque Mines
You can read Chionque's full remarks here and watch the video of her introduction and President Obama's speech below.
We wholeheartedly agreed with President Obama when he said:
We are proud of what she [Chionque] has achieved and the spirit that she represents. When it comes to higher education, we spend a lot of time crunching numbers and statistics. But ultimately what matters—and what has so many of you here today, many of you who have made this your life work—is making sure that bright, motivated young people like Chionque, and all the students who are here, have the chance to go as far as their talents and their work ethic and their dreams can take them.
Executive Director Harold Levy participated in a breakout session after the President's speech titled "Technology, Innovation, and Finding the Right Fit." Joining him on the panel were Assistant Professor of Education at the University of Virginia Ben Castleman, a 2013 Jack Kent Cooke Foundation Dissertation Fellow, and Richard Culatta, Deputy Director of the Office of Educational Technology at the U.S. Department of Education. The panel was moderated by Mandy Savitz-Romer, a senior lecturer on education and faculty director of Prevention Science and Practice Program at the Harvard Graduate School of Education.
The afternoon ended with remarks by First Lady Michelle Obama and Vice President Joseph Biden, Jr.

First Lady Michelle Obama
The First Lady told the room that "Every one of us has a role to play."
The Foundation is proud of the role it has played and continues to play; it is proud of its commitments, which build on a dozen years of success in increasing access to college for high-achieving, low-income students, and it is proud to have been a lead sponsor of the White House College Opportunity Summit. We appreciate being mentioned in so many of the speeches given that day and are especially grateful to First Lady Michelle Obama for giving us a round of applause.