Meet the 2017 Cooke College Scholars!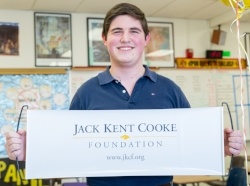 The Jack Kent Cooke Foundation, which awards the largest scholarships in the United States to outstanding students with financial need, has selected 80 high school students from 28 states and the District of Columbia to receive Cooke College Scholarships that are each worth up to $40,000 annually for four years.
The new Cooke College Scholars were chosen from more than 5,100 scholarship applicants with a median family income of $31,000.
"Our scholarships have enabled extraordinarily talented students from families with modest incomes to attend top colleges and universities and graduate with honors," said Cooke Foundation Executive Director Harold O. Levy. "These scholarships are an investment in a better and more prosperous future not just for our scholars but for our nation, because America will benefit for decades to come from the career achievements of Cooke Scholars."
The scholarships fund the costs of attending college not covered by other financial aid, plus academic advising, stipends for internships, study abroad and opportunities to network with other Cooke Scholars and alumni.
Cooke College Scholars are selected based on exceptional academic ability and achievement, financial need, persistence, service to others and leadership. Students must be current high school seniors residing in the United States. Scholarships are awarded without respect to religion, sexual orientation, gender identity, citizenship status, geographic region, race or ethnicity.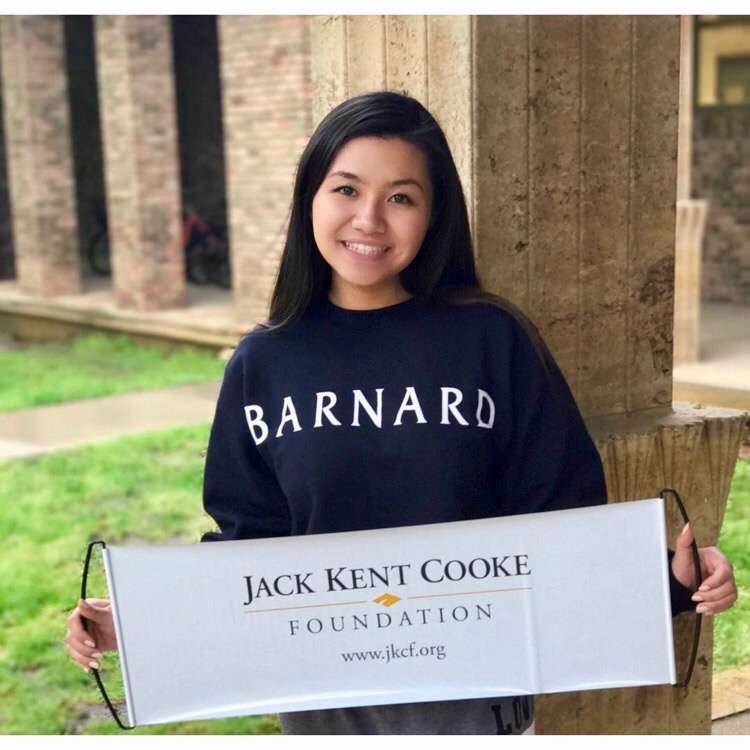 Listed below are each state's new Cooke College Scholars and their associated hometowns, high schools, and the college or university they will be attending this fall:
Arkansas
Shari Jay Evangelista – Crossett; Crossett High School; Pomona College
California
Paulina Anzaldo – Chino Hills; Ruben S Ayala High School; Stanford University
Melissa Batz – San Bernardino; Lawrenceville School; Northwestern University
Agata Bykovtsev – Goleta; ; Massachusetts Institute of Technology
Jorge Campos – Palmdale; Manual Arts Senior High School; Harvard University
Zoey Chu – Garden Grove; Garden Grove High School ; University of California, Los Angeles
Nathaniel Gugel – Hughson; Hughson High School; Stanford University
Hojoon Kim – Los Angeles; Phillips Exeter Academy; Princeton University
Yoshmar Pinal-Alfaro – San Jose; Archbishop Mitty High School; Case Western Reserve University
Odysseus Pyrinis – Newbury Park; Newbury Park High School ; University of California, Berkeley
Carlos Rodriguez Cortez – Los Angeles; Animo Pat Brown Charter High School; Yale University
Colorado
Antonio Cabrera – Broomfield; Broomfield High School; Montana State University
Connecticut
Isis Anderson – New Haven; Achievement First Amistad High School; Stanford University
District of Columbia
Javone Love – Washington; Sandy Spring Friends School; College of the Atlantic
Florida
Florencia Almada – Ft. Myers; Bishop Verot High School; University of Chicago
Jacqueline Alvarado-Perez – Panama City; Deerfield Academy; Claremont McKenna College
Joselyn Angeles-Figueroa – Poinciana; Haines City Senior High School; Macalester College
Madison Cochrane – Dunnellon; Crystal River High School; Tufts University
Taimaisu Ferrer Sin – Homestead; Gulliver Preparatory School; Cornell University
Tamara Gomez-Ortigoza – Miami; School for Advanced Studies – Wolfson; Dartmouth College
Victoria Gresbach – Sarasota; Pine View School; Stanford University
Karen Herrera – Miami; TERRA Environmental Research Institute; University of Pennsylvania
Mitra Kiciman – Plantation; Plantation High School; Duke University
Anthony Mansur – Miami; Archimedean Upper Conservatory; University of Pennsylvania
Jacob Mosley – Ocala; Vanguard High School; Massachusetts Institute of Technology
Adriana Nazarko – St. Petersburg; Lakewood HS: Center for Advanced Technologies; Bowdoin College
Hanna Oliveto – Clearwater; Clearwater High School; Mercer University
Georgia
Grady Owens – Lake Wales; Lake Wales High School; Cornell University
Joshua Poland – Spring Hill; F W Springstead High School; Elon University
Jolisa Brown – Atlanta; The Westminster Schools; Rice University
Albert Kim – Suwanee; Gwinnett School of Maths Science and Technology; Princeton University
Anabelle Paulino – Woodstock; River Ridge High School; Harvard University
Isabelle Riddle – Canton; Sequoyah High School; University of Georgia
Illinois
Erin Snoddy – Glenwood; Lake Forest Academy; Swarthmore College
Myra Ziad – Lincolnwood; University of Chicago Laboratory High School; University of Michigan, Ann Arbor
Indiana
Isaac Bush – Flat Rock; Southwestern High School; University of Indianapolis
Sawyer Scheitler – Zionsville; Brebeuf Jesuit Preparatory School; Northwestern University
Kansas
Bessie Bauman – Olathe; Olathe Northwest High School; Yale University
Kentucky
Young-Kyung Kim – Lexington; Henry Clay High School; University of California, Los Angeles
Louisiana
Shawn Duncan – Harvey; Metairie Park Country Day School; University of North Carolina at Chapel Hill
Lauryn Smith – Meridian; Mississippi School for Mathematics and Science; Johns Hopkins University
Maryland
Melanie Duenas – Silver Spring; Phillips Exeter Academy; University of Maryland,College Park
Massachusetts
Alexander Kaminsky – Swampscott; Deerfield Academy; Columbia University
Michigan
Matthew Johnson – Taylor; Renaissance High School; University of Michigan, Ann Arbor
Lauren Pham – Grand Rapids; Cranbrook Kingswood School; Barnard College
Minnesota
Tracy Shaffer – Minneapolis; Edison High School; University of Minnesota, Twin Cities
Kevin Tran – Saint Paul; Harding High School; Stanford University
Mississippi
Baili Zhong – Southaven; Mississippi School for Mathematics and Science; Pomona College
Missouri
Samuel Chinnery – Independence; Summit Christian Academy; Massachusetts Institute of Technology
Mirinda Holthe – Independence; Van Horn High School; Manhattan School of Music
Dzung Nguyen – Columbia; Columbia-Rock Bridge Senior High School; University of Pennsylvania
Alexis Vatterott – Saint Louis; Lindbergh High School; University of Michigan, Ann Arbor
Emily Zaretzky – Camdenton; Camdenton R-III High School; Purdue University, West Lafayette
Montana
Gabriella Blatt – Box Elder; Big Sandy High School; Yale University
Nebraska
Tyler Paul – Papillion; Papillion-La Vista South High School; University of Nebraska, Lincoln
Margreta Welch – Chadron; Chadron High School; Brown University
Nevada
Thyra-Lilja Altunin – Incline Village ; Stanford University Online High School; University of Pittsburgh
Victoria Young – Henderson; Laurel Springs School; John Hopkins University
New Jersey
Daniel Baxter – Toms River; Marine Academy of Technology Environmental Sci; George Washington University
Diana Carranza – Caldwell; James Caldwell High School; Columbia University
New York
Esther Couch – New York; Stuyvesant High School; New York University
Joseph Frank – Buffalo; St. Joseph's Collegiate Institute; Northeastern University
David Liu – Flushing; Hunter College High School; Princeton University
Jena Yun – Fresh Meadows; Phillips Exeter Academy; Princeton University
North Carolina
Cristopher Alvarado – Charlotte; North Carolina School of Science and Mathematics; Swarthmore College
Nadia Mansoor – Charlotte; North Mecklenburg Senior High School; Swarthmore College
Chidubem Nwakuche – Raleigh; Rolesville High School; Wake Forest University
James Philips – Cape Carteret; Croatan High School; Massachusetts Institute of Technology
Mina Yakubu – Wilmington; New Hanover High School; University of North Carolina at Chapel Hill
Joshua Zhou – Chapel Hill; North Carolina School of Science and Mathematics; Stanford University
Pennsylvania
Sterling Myers – McKeesport; The Kiski School; Harvard University
South Carolina
Sarah Radwan – Summerville; Fort Dorchester High School; Princeton University
London Scott – Cheraw; Cheraw High School; Harvard University
Tennessee
Anemone Hansen – Chattanooga; Hamilton County Collegiate High at Chattanooga State; Pepperdine University
Texas
Deborah Cuellar – Harlingen; IDEA College Preparatory: San Benito; Texas Tech University
Leul Dadi – Garland; School for the Talented and Gifted at Townview; Harvard University
Tim Im – Fort Worth; Trinity Valley School; Harvard University
Kelly Liu – San Antonio; YES Preparatory Public Schools – West; Trinity University
Sahaj Shah – Pflugerville; Pflugerville High School; Dartmouth College
Virginia
Peter Zhao – Springfield; Thomas Jefferson High School for Science and Tech; Williams College