November 21, 2014: Education News We're Reading This Week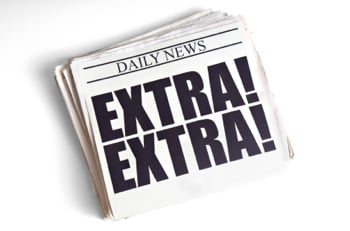 November 21, 2014—Here is what's new in education news this week.
"Cross-disciplinary learning students will be better able to understand, and design for, the human condition," says University of Delaware provost and blended learning proponent Domenico Grasso in The New York Times. The attempt to blend arts and STEM is gaining credibility at top colleges and institutions.
On Thursday, November 20, the 2014 National Survey of Student Engagement was released. While Nessie, as it is called, draws acclaim and critique, since 2000 the annual survey's goal has been to shift the college quality conversation onto better topics than status, reputation, and wealth.
A UCLA study has revealed that students at poor California high schools lose up to 25 school days per year due to interruptions, substitutes, and test preparation.
The Washington Post reports that lawsuits alleging unlawful racial bias in admission policies have been announced at Harvard and the University of North Carolina at Chapel Hill.
Tests and test preparation can often be an overwhelming factor in today's student experience. One survey, writes NPR, shows that students may take up to an average of 113 standardized tests between pre-K and grade 12.
Many low-income students of color face a harsh and "uncompromisingly stern approach" to education—so how strict is too strict? asks The Atlantic.
"Blended learning is not merely adding technology, a device or a tutoring program. It certainly is not replacing teachers with computers," writes Preston Smith in The Huffington Post.
In response to a New York Times article on "the perfect number of college applications to send," Elizabeth Benedict discusses college applications, application essays, and strategy.
An NPR article shares that many millennials are struggling to complete college, pay living expenses, and keep up with student debt.
See what Wells Fargo and Discover are doing to ease loan terms for those with heavy student debt in the Wall Street Journal.
Foundation research is mentioned in this Atlanta Journal-Constitution piece on why "graduating more engineers should be a national priority."
Watch this video from CBS, in which Graduate Scholar Randy Regier explains his unorthodox installation art and inclusion in the "State of the Art" exhibit at the Crystal Bridges Museum of American Art.
One Undergraduate Transfer Scholar was featured in The Badger Herald for his work with nonprofit Leading Change. As the organization's co-founder and CEO, Ousmane Kabre works diligently to help low-income students in his home country of Burkina Faso.
Today, Getting Smart named the Foundation as one of 20 higher ed innovators in its 2nd annual Smart List. Other recipients include Lumina Foundation and Arizona State University.