October 24, 2014: Education News We're Reading This Week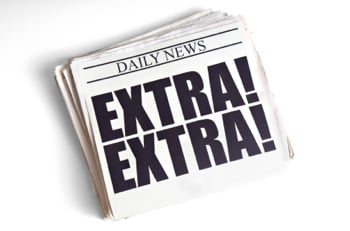 October 24, 2014—Here is what's new in education news this week.
On Wednesday, parents who seek to obtain federal student loans for their children but have "damaged credit histories" received good news. Next year, the Obama administration's PLUS loan program will have looser requirements for those who can benefit, writes Inside Higher Ed.
Hear from one high school senior about the process of college visits. The Washington Post has now published three articles following Samantha Fogel's college decision process.
eCampus News provides insight on the new term "potential completers" and explains how competency-based education—as opposed to the traditional semester-style college courses—could greatly help this group after graduation.
Check out 'A New Breed of Journalism' on Education Next, which explains the growing trend of education reporting in recent months and who is leading the way.
Justus Uwayesu was nine when he was rescued from a burnt-out car in Rwanda. Today, he is learning the ins and outs of U.S. life and education as a freshman at Harvard. The New York Times shares more about his amazing story.
Jay Matthews of The Washington Post expresses his concern for who gets gifted services, citing the founder of Jack Kent Cooke Foundation grantee The Renzulli Academy. You can read the first of Matthew's soon-to-be three-part series here, 'Why gifted education doesn't make sense.'
Also on our blog: Grantee Spotlight: Renzulli Gifted and Talented Academy
In this Forbes piece, Nick Morrison argues for technology in the classroom—if it is used correctly. "Too much of the technology that is used in classrooms actually reinforces traditional teaching methods," he says, stating that teachers make the difference when it comes to implementation.
Here is another on technology in schools from The Hechinger Report. Like bicycles, says Greg Toppo, technology can sometimes prove dangerous but helps us go farther with the same amount of energy as walking.
Finally, listen to Executive Director Harold O. Levy on last Friday's Inside Higher Ed podcast, 'This Week.' Hear about how technology can help low-income students "understand their college-going options."