Quinn Youth Leadership Award Recipient Sarah Sahibousidq
Naperville, Illinois, high school sophomore Sarah Sahibousidq is a 2014 Cooke Young Scholar and one of two recipients of the Cooke Foundation's 2015 Matthew J. Quinn Youth Leadership Award, which she was awarded for developing and implementing a mentorship program and a summer enrichment program to assist students in elementary and middle school.
Sarah's peer mentoring program, Brookdale Buddies, is designed to help students build academic and social skills. Fifth graders from her local middle school mentor elementary school students while a group of high school students mentor and serve as role models for the fifth graders. Although students from every background are welcome, most of the participants and mentors are from minority backgrounds. The mentoring program aims to equip young students "with tools to succeed in school by not simply helping with homework, but by creating a network of student resources that are invested in the success of each student."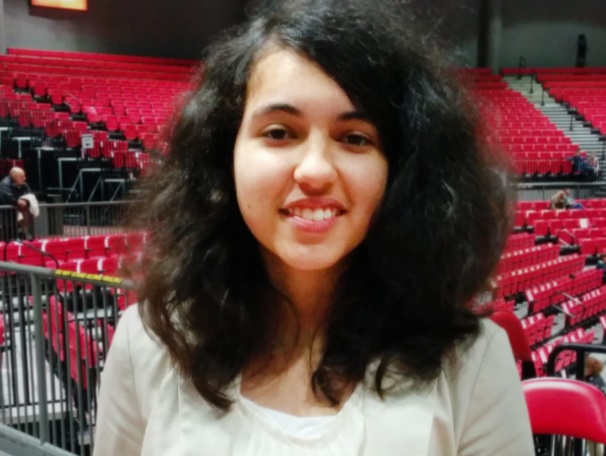 Due to education budget cuts and a lack of summer science programs, Sarah also established a summer science camp for young people in her community to provide them with an opportunity to learn more about the subject.
"We explored chemistry through acids and bases, made carbonated drinks, examined plant cells under the microscope, tested the aerodynamics of paper airplanes, made invisible ink, classified minerals, did egg drops, made rock candy while exploring crystallization, ran across a six foot trough of non-Newtonian fluid and much more."
Sarah believes that all students should be able to participate in education programs regardless of their ability to pay, which is why she offers the programs free of charge. In order to pay for the materials for the science club, mentoring program, and other tutoring activities, Sarah uses the money she earns from babysitting. The monetary prize from the Quinn Youth Leadership Award will allow her to purchase material that will better assist the mentors and students who will continue to benefit from these programs. There's a lot of support and excitement surrounding Sarah, and the 30 students who participated in the summer science camp are already asking about next summer.