Scholar Spotlight: NYU Symphony Performs JKCF Scholar's Composition
It's an honor every composer dreams of: hearing your own work performed by an orchestra. For 2012 Jack Kent Cooke Graduate Arts Scholar Nell Shaw Cohen, the dream became reality earlier this month as the New York University Symphony performed Cohen's orchestral composition, an art-inspired tone poem titled "Point Reyes from Chimney Rock." Cohen complemented her NYU Master of Music studies by becoming one of three composers-in-residence for this year's Steinhardt School of Culture, Education, and Human Development program, and hearing her work performed by NYU's orchestra is the primary benefit.
"Point Reyes," Cohen's first publicly-performed composition for orchestra, was conducted by David Rosenmeyer at the Skirball Center for the Performing Arts in New York alongside pieces by fellow composer-in-residence Kyle Tieman-Strauss.
"While I've been fortunate to develop my orchestral writing through several reading and recording sessions with student orchestras during my graduate and undergraduate studies," Cohen explained over email, "to have a piece rehearsed and publicly performed by an orchestra is a rare and special opportunity for any early-career composer (and, accordingly, I was anxious that it would go well!). It was truly special to be able to share this music with my colleagues, teachers, family, and the larger community."
The piece was inspired by California artist Tom Killion's print of the same name, which pictures a coastal view just north of San Francisco. Cohen was moved by the beauty of this national park during her formative years and found the Japanese-style woodcut print a great visual representation—one she would later translate into sound.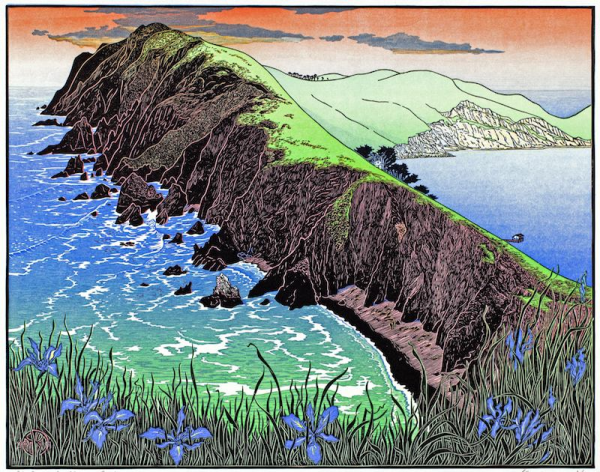 "Point Reyes from Chimney Rock," Tom Killion 
Cohen has been writing music for chamber, voice and large ensemble pieces since 2007 and, before that, wrote, performed and released rock music under the moniker Nell James. She graduated in 2012 from the New England Conservatory of Music and began her master's at NYU, garnering praise along the way from notables such as the Boston Globe.
Outside of music, Cohen uses an extensive web presence to display additional artistic ventures. Her website, blog, and "Beyond the Notes"—which presents "unique online multimedia experiences exploring the visual and performing arts"—all stand as proof of Nell's multi-faceted range of talents. One unique skill is displayed in the fan-favorite "The Faraway Nearby," an ambitious mini-documentary which presents video, text, and original score and animation in an attempt to honor the New Mexico-themed paintings of legend Georgia O'Keeffe.
By spring Cohen's work will be performed twice more at NYU, including a one-act monodrama for tenor voice and chamber sextet. Cohen stated, "I wouldn't have pursued study at New York University if it weren't for the support of the Jack Kent Cooke Foundation's Graduate Arts Award, for which I am daily grateful!"
Cohen became a Jack Kent Cooke Scholar in 2012 and is currently slated to finish at NYU in May 2014. You can sign up for her mailing list to hear "Point Reyes from Chimney Rock" and to learn more about her artistic endeavors.