Scholar Spotlight: Undergraduate Transfer Scholar Angela Warren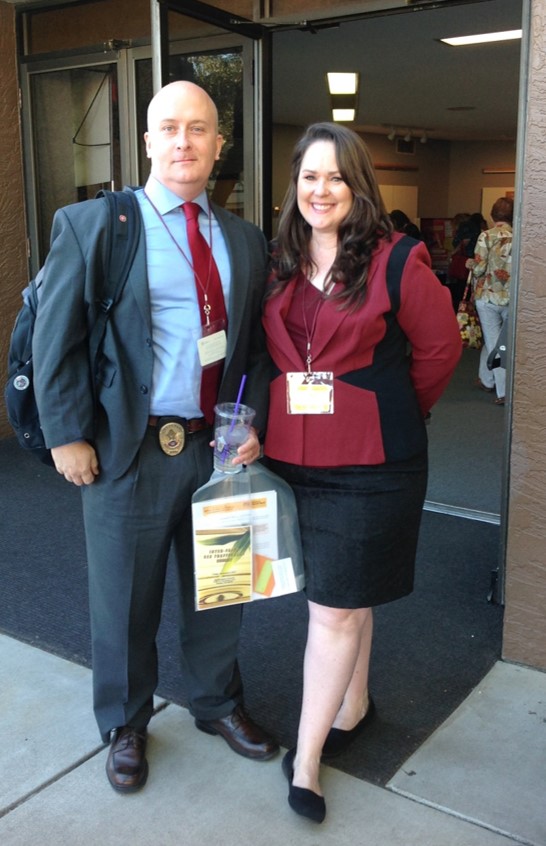 In July 2014 the Arizona School Board Association published a profile on Graduate Scholar and former Undergraduate Transfer Scholar Angela Warren, whose efforts as a social worker have helped highlight and confront the tragic issue of sex trafficking in the U.S.
Angela transferred to Arizona State University (ASU) from Glendale Community College in 2011 to earn a bachelor's degree in social work. She is now pursuing a Master of Social Work at ASU. Alongside her professor and thesis chair Dominique Roe-Sepowitz, Angela coordinated an interfaith summit in Phoenix as an undergraduate honors thesis project, pulling together policy experts, police, social workers, and other anti-sex trafficking champions for lectures, discussion, and planning. The summit's 200-plus attendees, lecturers, and leaders responded with enthusiasm.
Photo: Angela Warren and Commander James Gallagher
At Glendale, Angela was first exposed to the issue as a social work student. During this time she noticed that, given the appalling nature of the issue, many people felt uncomfortable discussing sex trafficking and avoided or changed the subject. A similar trend held true in academic literature—in 2008 the most recent publication on trafficking in the U.S. was dated 2001. As for local organizations in Arizona, the work they did was life-changing but each had very little support to grow.
At ASU Angela's interest in the field deepened. It was here that she met Roe-Sepowitz and learned more about victims of sex trafficking. Although at the time research on the topic was scarce as well as murky, Angela was determined to learn as much as possible and find a better way to help.
In November 2013, the time came for Angela's project for the Barrett Honors College at ASU. The more she spoke with local leaders and workers, the more she realized that by bringing them together she could do the most good. A church space was offered up as a free venue, a friend decided to cater free of charge, and registrants began to show interest. Among those in attendance were Director of the Arizona Department of Homeland Security Gil Orrantia, Phoenix Police Department's Commander James Gallagher, and U.S. Department of Homeland Security Program Advisor Nicole Wood. Guests set up tables, four sex trafficking survivors spoke, and breakout sessions concluded the summit. Attendees noted that the event not only underlined urgency for a solution to the issue, it connected participating organizations into one cohesive network.
Angela's post-graduation field work will begin in May and she has expressed interest in a more active role in the field. By honing her clinical skills in the summer Angela hopes to work in therapy, possibly leading group sessions for a residential treatment center and eventually working directly with survivors.
We are proud of Angela's brave and impactful work and look forward to seeing what she does in the near future.