Scholar Spotlight: Undergraduate Transfer Scholar Chris Wilbur
The Foundation recently caught up with Chris Wilbur, a 2011 Undergraduate Transfer Scholar and current Executive Chair of the Jack Kent Cooke Scholar Association.  Read below his thoughts on being a Jack Kent Cooke Scholar, advice to other Scholars, his role in the JKCSA, and what he's up to these days.
What did receiving the Undergraduate Transfer Scholarship do for you and how did it change your goals and aspirations?
The Undergraduate Transfer Scholarship affected me in a number of important ways. With such a generous Scholarship financial package, it is easy to appreciate the hardship that becoming a Jack Kent Cooke Scholar forgoes by providing a means to attend college. However something deeper than the scholarship has been the most important gift from the JKC Foundation.
Jack Kent Cooke wanted to create a diverse group of Scholars who like him were exceptional in many ways, yet had faced numerous challenges in finding success. He thought that by connecting these individuals an unparalleled network would be created for support, shared pursuits, and ultimately achievement. It would be a sort-of think tank that would capture such diverse talent united by a common variable, the Jack Kent Cooke Foundation.
I think that is exactly what I have found so valuable in being a Jack Kent Cooke Scholar; I have met so many incredible people from diverse backgrounds and with such brilliant talent, that I have become a far better person. I count myself very lucky to call so many amazing people my friends.
What advice would you give other Scholars for them to make the most of what they are given?
In line with the idea that our own Uncle Jack had in mind, I think the most important advice for Scholars is use this network to your fullest advantage. I would say, "Go out of your way to meet and connect with Jack Kent Cooke Scholars, where else are you going to find such brilliant people gathered under a single banner that you belong to?" We are cousins after all.
Of course, as Executive Chair of the Jack Kent Cooke Scholar Association, which serves to foster that network, I would be amiss if I didn't mention we are the perfect place to start in order to get use our network!

Describe what the JKCSA does and your role in it.
The Jack Kent Cooke Scholar Association has three primary goals: "improve the Association ties among Alumni and current Scholars; use this strengthened Association to enable the Association to have a positive impact on society; and increase the number of people who recognize the Jack Kent Cooke Foundation and hold its Scholars and Alumni in high regard." These are in the mission statement of our constitution and guide everything we do.
In order to carry out our first goal, we hold Scholar Get-Togethers. These typically consist of a service project, or a venture to an art gallery, or even a baseball game. Afterward, dinner is provided and is an excellent opportunity to refresh and talk about the day's work.
Elected regional representatives facilitate the events and use Facebook and email to communicate with Scholars and coordinate Get-Togethers. Although these positions are elected, there are several indispensable appointed positions in the Association. One such, are local liaisons, who provides more regional coverage to host even more parties throughout the United States, and greater world.
In order to cover our second goals of service and branding, we have organized two standing committees called Service and Branding. This is another opportunity to get involved with JKCSA as we develop these mechanisms to spread good service and the good name of the Jack Kent Cooke Foundation.
I can't tell you how much I love working with these people, and working for the greater good of the Foundation. It is really a pleasure. I invite you to come along and ask questions about us, and if you have time, get involved!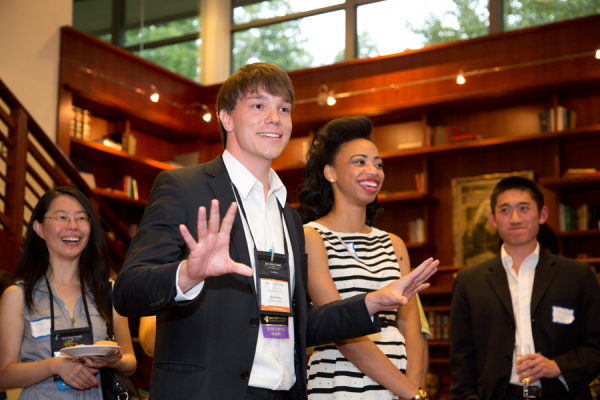 Have your goals changed throughout your years as a Jack Kent Cooke Scholar?
When I wrote my application to the Jack Kent Cooke Foundation, my goals were pretty firm in mind. I wanted to be a Foreign Service officer. I loved travel, I loved learning language, and I was fascinated with international politics…I still am. But over time I have realized golden opportunities open up that are not always in line with your original goals and may change them. Experiences I have had have encouraged me to explore law and commerce in addition to politics. As of now, I believe I am keener on exploiting opportunities than ever before, more knowledgeable than ever before, but less fixed on a particular profession than I ever have been.
What are you currently up to?
At present I am editing a video I shot of a community organization in Haiti. I had the pleasant fortune of meeting a group of people deeply involved with educating Haitian children and was very impressed by what I saw. I was so moved I wanted to film it and am putting together materials in order to solicit grant applications in the future. We will see!
What led you to your decision to attend the London School of Economics?
The London School of Economics always had a ring to it; I just knew I had to be there. That is the intuitive side of it. On the rational, I first heard about the School in my International Politics class as the birth place of the English School of International Relations, a system of thought that fuses Realism and Liberalism. It had me at hello.
As I learned more about it, I learned it would be an incredible fit for me, joining politics and economics, and focusing on student exposure to real world individuals and events.
What do you hope to be doing when you finish school?
That's an excellent question. To be quite honest, as I mentioned above, I am not sure. There is a very strong tug inside me to venture off into international startup companies. I am dying to get into trade and create an organization from the ground up. I feel I really need the experience and success to move forward into the world.
Do you have anything else to add?
Love you guys at the Jack Kent Cooke Foundation.