Study: Music Strengthens the Brain
What made Jack Kent Cooke destined for greatness? Whittling that down to one answer may be a fool's errand, but history suggests that music—an abiding love of Mr. Cooke's—set forth at least one bridge to success. And now science may suggest the same.
In this article, Education Week highlights the findings of multiple studies that suggest music training and performance strengthens a student's cognitive development, especially in the areas of creativity, decision-making, and complex memory.
All the better then that Mr. Cooke's love of music is firmly imprinted on the Foundation's services. And what are the high notes of this commitment to music? For starters, the Foundation's grantmaking arm initiates Widening the Stage for Musically Talented Youth, funding organizations across the country that expand access to music for students from low-income families. The Foundation also partners with From the Top through the Jack Kent Cooke Young Artist Award program, which serves to identify and support 20 outstanding young musicians each year who demonstrate financial need with a $10,000 scholarship to advance their artistic development and education.
In higher education, the Foundation's Graduate Arts Award seeks to rid financial barriers for exceptionally promising students or recent alumni to enable further pursuit of their artistic craft. And within our Young Scholars Program, scholarship dollars are funneled into music more so than any other extracurricular activity. In fact, nearly 40 percent of the Young Scholars this year are projected to receive musical services. But enough talk about the numbers. Be dazzled by these performances from Young Scholars, all of whom are excelling in the classroom and on stage. We sure are!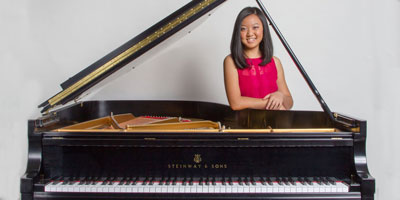 Young Scholar Victoria Young
Victoria Frances Young – Young Scholar who has performed on the biggest stages both here in the US and internationally.
Hyung-Do Kim – Young Scholar who performed at the Clara Haskil Piano Competition in Vevey, Switzerland.
Victor LaBozzeta – Young Scholar who's been performing and composing music since he was a child.
Evan Ritter – Young Scholar who recently performed at the 2014 National YoungArts Week in Maimi.