Top 5 Things To Know About FAFSA
Preparing to fill out the Free Application for Federal Student Aid otherwise known as FAFSA?  It's a daunting task but well worth your time. FAFSA can open the doors to the $150 billion in grants, loans, and work-study funds that the federal government has available. Also, many states, schools, and private scholarships require you to submit the FAFSA before they will consider you for any financial aid.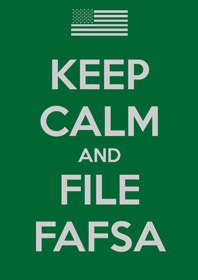 We've compiled some resources to help you met the challenge. Ready, set, go!
To start, here are the top 5 things you need to know about FAFSA.
#1:       Arm yourself with information
Your Social Security Number
Your Alien Registration Number (if you are not a U.S. citizen)
Your most recent federal income tax returns, W-2s, and other records of money earned. (Note: You may be able to transfer your federal tax return information into your FAFSA using the

IRS Data Retrieval Tool

.)
Bank statements and records of investments (if applicable)
Records of untaxed income (if applicable)
A Federal Student Aid

PIN

to sign electronically
#2:       Get an application
#3:       Do your research
There are great resources available online to walk you through the process. There are even Web 2.0 resources such as videos that explain the process.
#4:       Beware of deadlines
Colleges and universities have different deadlines so use this tool to determine when forms are due.
#5:       This is an annual process
You must fill out a new FAFSA each year. The new FAFSA is available on January 1 each year.
Good luck!