Traveling Players Ensemble: Where Theater Meets Adventure
"All the world's a stage,
And all the men and women merely players;
They have their exits and their entrances,
And one man in his time plays many parts…"
-William Shakespeare
Take a stroll through Lake Fairfax Park in Reston, Virginia during the height of the summer and you may stumble upon Shakespeare's Puck frolicking through the woods, or Snow White and the Evil Queen exchanging an apple by the lake. Off to the side, you might find a woman in modern dress sitting on a tree stump mending a Renaissance gown. These are the members of Traveling Players Ensemble, a local theater school that offers acting classes throughout the year in addition to several camps over the summer.
Since 2003, Founder and Producing Artistic Director Jeanne Harrison has been welcoming students in grades 4-12 to her camps in the park. This year, the organization received a $25,000 grant from the Jack Kent Cooke Foundation allowing Harrison to offer additional scholarships to elementary, middle, and high school students with financial need. "We are thrilled to receive the foundation's Good Neighbor Grant. Traveling Players has been leading locally in its awarding of theater scholarships, so being aligned with the Cooke Foundation — a leader in educational scholarships — means the world to us. We are eager to make our already powerful scholarship program even more robust and we are extremely grateful," said Harrison.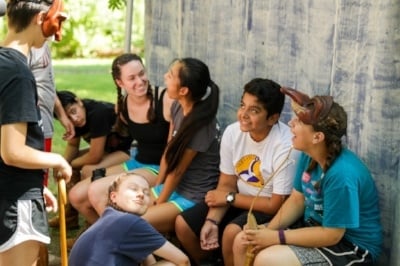 The theater troupe shares the foundation's interest in providing higher level opportunities for motivated students. The participants study and perform Shakespeare and Molière, for example; and learn the art of improvisational comedy in the Commedia Troupe. They paint sets, perform in different outdoor venues, travel together, and pack and load their props and camping gear. They also carry with them their motivation, sense of adventure, and willingness to take risks.
Harrison describes a theme that permeates the underlying premise of the organization when she describes the symbolic nature of masks in theater. "We all wear masks and live in fear that if our masks drop, we won't be liked. The traveling nature of the camp means that for most students, the mask gets dropped at one point or another. It's hard to go several days riding in buses and sleeping in tents without letting your guard down. These kids learn that even when their masks are dropped, they are still accepted, and life goes on."
The message is clear: Take risks, be bold, make mistakes, and then recover. Help each other and put the troupe ahead of any one individual's goals. These are the lessons the students learn on the road. They are endorsed by the loyalty of the staff, some of whom have been with the organization for over 10 years, and by the dedication of the students who return, year after year, to take part in this unique experience.
Traveling Players is one of seven 2016 Good Neighbor Grant recipients from the Jack Kent Cooke Foundation. The grant offers $10,000-$35,000 to local non-profits working to advance opportunities for high-achieving students with financial need. The proposal application process is open now through November 15, 2016.