Undergraduate Transfer Scholar Sofia Medina in Emmy-Nominated TV Segment
Undergraduate Transfer Scholar Sofia Medina is featured in an Emmy-nominated program titled "An Immigrant's Story." This segment of Classroom Close-up, NJ produced and edited by Kevin Ronan details the hurdles Sofia faced to become a pre-med student at Johns Hopkins University.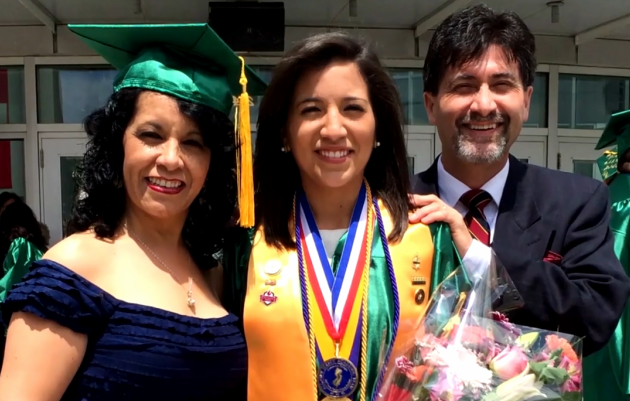 After emigrating from Ecuador in 2000, the Medina family struggled to have their permanent residency finalized. Being undocumented meant that Sofia was not eligible to receive many forms of financial aid and prevented her from accepting enrollment offers at the prestigious universities she had originally set her sights on.
Instead, she began her studies Essex County College, intending to transfer as soon as her residency status was updated.
"In a way, it was sort of an arrogant behavior, and I recognize it," Sofia says in the film. "Very quickly when I came here, I was humbled. I met very empathetic professors and people who not only helped me to grow academically, but [they also] helped me to grow as a human being."
Rather than making a quick transfer, Sofia attended Essex County College for three years until she graduated and become a Cooke Undergraduate Transfer Scholar in 2014.
"Out of probably 2,400 students over 22 years, she is one of the top five that I have seen academically," says Dr. Jeffrey Lee, one of Sofia's mentors and a professor at Essex County College's Division of Biology & Chemistry.
Sofia is continuing her undergraduate pre-med studies at Johns Hopkins. Her brother, Jose Medina, was also a Cooke Undergraduate Transfer Scholar and was later awarded a Graduate Scholarship from the foundation. Jose completed his B.S. and M.S. in mechanical engineering from Georgia Tech with his support from the Cooke Foundation. We wish the best of luck to this already accomplished family as they wait to hear announcements of the Emmy Awards on September 19!
Think Big. Work Hard. Achieve.
If you are interested in applying for a Cooke Undergraduate Transfer Scholarship when the application opens in October, please sign up to be notified using the button above!