Video: Undergraduate Transfer Scholar Zach Sorey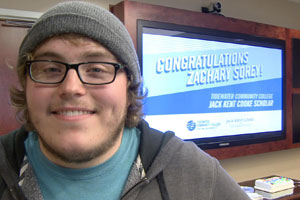 Zachary Sorey was recently named a 2014 Undergraduate Transfer Scholar.
As the first person in his family to go to college, Zach faced a tall task when he began at Tidewater Community College in Norfolk, VA. But with a 4.0 in engineering after two years at TCC and as a member of the Phi Theta Kappa honor society, a senator in the Student Government Association and an executive officer in the Chesapeake campus engineering club, Zach earned himself a well-deserved spot on this year's list of 85 Undergraduate Transfer Scholars.
Check out this amazing video by TCC to see where he's headed next. Congratulations Zach!