Widening the Science Talent Pipeline for Underserved Students
Projections show that STEM careers will grow to over 9 million by 2022, and it's about time that students from low-income backgrounds become part of the equation.
For over 75 years, the Society for Science & the Public has sought to spark a passion for science, scientific research, and STEM education in the minds of young people around the world. In recent years, the Society has increased its focus on diversifying the STEM pipeline by launching a program to engage underrepresented students in science research and advanced science competitions.
The concept is straightforward: train selected STEM teachers (called Advocates) to recruit and mentor underrepresented students who have incredible, unrealized potential for scientific research. The goal? To foster more career scientists from underserved populations, starting by encouraging their entrance in science competitions.
"Participating in science research competitions is a key milestone of STEM pathways, however, underserved students are typically the least prepared to enter these competitions and lack the guidance needed to submit a successful entry.  The Advocate program successfully fills this gap for many students," said Caitlin Sullivan, Director of Outreach & Equity, Society for Science & the Public.
Using seed funding from the Jack Kent Cooke Foundation, the program began in 2015 with nine Advocates selected through a rigorous application process. In just three years, the number of Advocates has risen to 45. New advocates this year will head to Washington, DC for the 2017 Advocate Training Institute before returning to their high schools.
Each year, Advocates recruit a minimum of three exceptional students and serve as their sounding board while they develop their scientific projects and apply to prestigious competitions. So far the results have been fantastic.
In its 2015 pilot year, the Advocate Grant Program saw 45 of its students accepted to competitions and in the 2016-17 school year, that number grew to 403.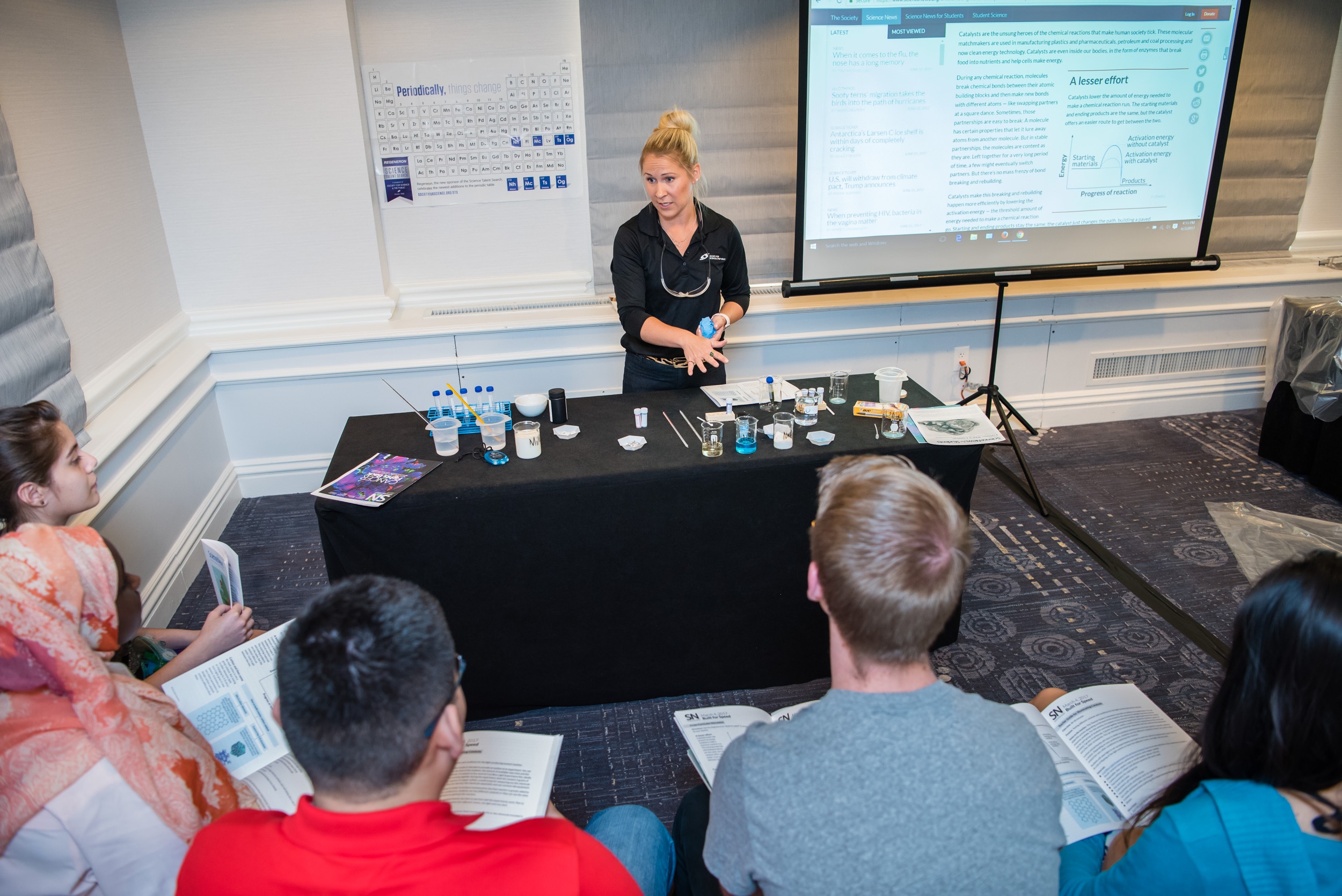 High school students are more likely to pursue a career in STEM when surrounded by peers who share the same interest. The Advocate Grant Program's growing sense of community has been a key factor to the program's early success. Recruited students have formed strong bonds with others who have similar backgrounds to them and have a passion for STEM.
Likewise, Advocate Jamie Ludwig from New Jersey praised the Advocate Training Institute saying, "I've never been in a group where everyone had such a strong interest in seeing everyone else be successful. I feel that despite our busy schedules and countless commitments, I can reach out to anyone I met in DC and get help and feedback as I work to be an Advocate for my high school group.".
Learn more about the Society for Science & the Public's Advocate Grant Program and other initiatives at their website.
Images provided by the Society for Science & the Public. Top: Chemistry Club students from Montgomery Blair High School react to a demonstration called Elephant Toothpaste at the 2017 Advocate Training Institute. Bottom right: Society staff member Anna Rhymes prepares local students for a lab activity that the 2017 Advocates will test at the annual Advocate Training Institute.