Young Scholars Program Featured In Live Inspired Magazine
Yesterday Live Inspired Magazine published a stunning profile on the Jack Kent Cooke Foundation's Young Scholars Program.
Brittany Washington's piece features Outreach Manager Cheryl Scott-Mouzon, as well as former Young Scholars, current College Scholars Yasmine Arrington and Eva Albalghiti, and Educational Adviser June Folliard.
Live Inspired aims to share "stories of innovation, forward thinking, and the new school of thought leaders." You can read the full article below.
The Jack Kent Cooke Foundation has been helping talented, low-income students and educational and nonprofit organizations for about 14 years. The Foundation was established in 2000 from money that Cooke left in his will after his death in 1997. Cooke was passionate about education but didn't get the chance to finish high school due to the adversities of the Great Depression.  He went on to become a prominent businessman, sportsman, and philanthropist. To date, the Foundation has awarded over 2,000 scholarships totaling $120 million and $76 million in grants.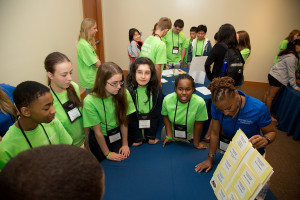 One of the scholarship programs that stands out is the Young Scholars Program. This program selects up to 60 seventh graders to provide financial aid and educational advising from the start of their eighth grade year until the end of their senior year.
"Students are assigned on-staff educational advisers and the advisers work closely with the student and family to come up with goals," said Cheryl Scott-Mouzon, the program manager for outreach. "Typically, it's an academic goal, career-oriented goal, and an extracurricular goal. Those goals then fold into opportunities that the Foundation pays for."
Some of those opportunities have included academic enrichment programs, piano lessons, and conference fees. The opportunities depend on the scholar's interests. Yasmine Arrington, a former Young Scholar and current College Scholar at Elon University, was interested in attending a private high school.
"My math teacher told me about the program and my grandma researched it.  Then I applied," Arrington said.
Through the Young Scholars program, she received a Dell laptop and studied abroad in Costa Rica in high school. After she applied and got into the College Scholars, she received a MacBook.
"This program has helped in so many ways," said Eva Albalghiti, a former Young Scholar and current College Scholar at Yale University. "The financial support is amazing. I'm so grateful I've been able to pursue things that I really love outside of school, and then going into college, I didn't have to consider what school might be too expensive because I knew the scholarship would help me out."
Albalghiti was inspired by her fellow Young Scholars to get involved with public service. In her sophomore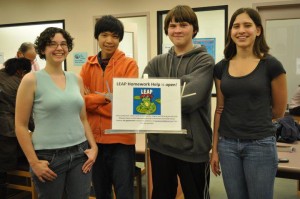 year of high school, she started LEAP, the Learning and Enrichment for Adolescents Program.
"It started as a free tutoring program through local libraries where we sent out ads to middle schools and elementary schools saying they could get homework help. A lot of kids came to that, so we expanded that program."
LEAP went on to raise money for international organizations that promote education. Two of those organizations were "Room to Read" and "Girl Effect."
"All the Foundation Scholars are interested in giving back to the community," Scott-Mouzon said. "Be it to their school, church or religious place, or the community at large."
Arrington also started an organization to help students while she was in high school. ScholarCHIPS provides scholarship opportunities for children with incarcerated parents.  To date, ScholarCHIPS has awarded over $26,000 in scholarships and helped 13 scholars.
"The Foundation is really supportive," Arrington said. "Not just academically, but of me as a person. It feels like a family. It really checks on you throughout the process. It's not just, 'here – take the money.'"
"The advising I got as a Young Scholar was incredible," Albalghiti said. "My adviser, June Folliard, is just an amazing human being and a true role model. She was almost like a second mother to me."
The Foundation also keeps up with its former scholars with its alumni network of 800 people.
Other scholarships include the College Scholarship Program, Undergraduate Transfer Scholarship, Graduate Arts Award, and Dissertation Fellowship.
For more information on these scholarships and the grants available through the Jack Kent Cooke Foundation, visit its website at https://www.jkcf.org/.